Dog Adoption
Finding homes for select career change dogs.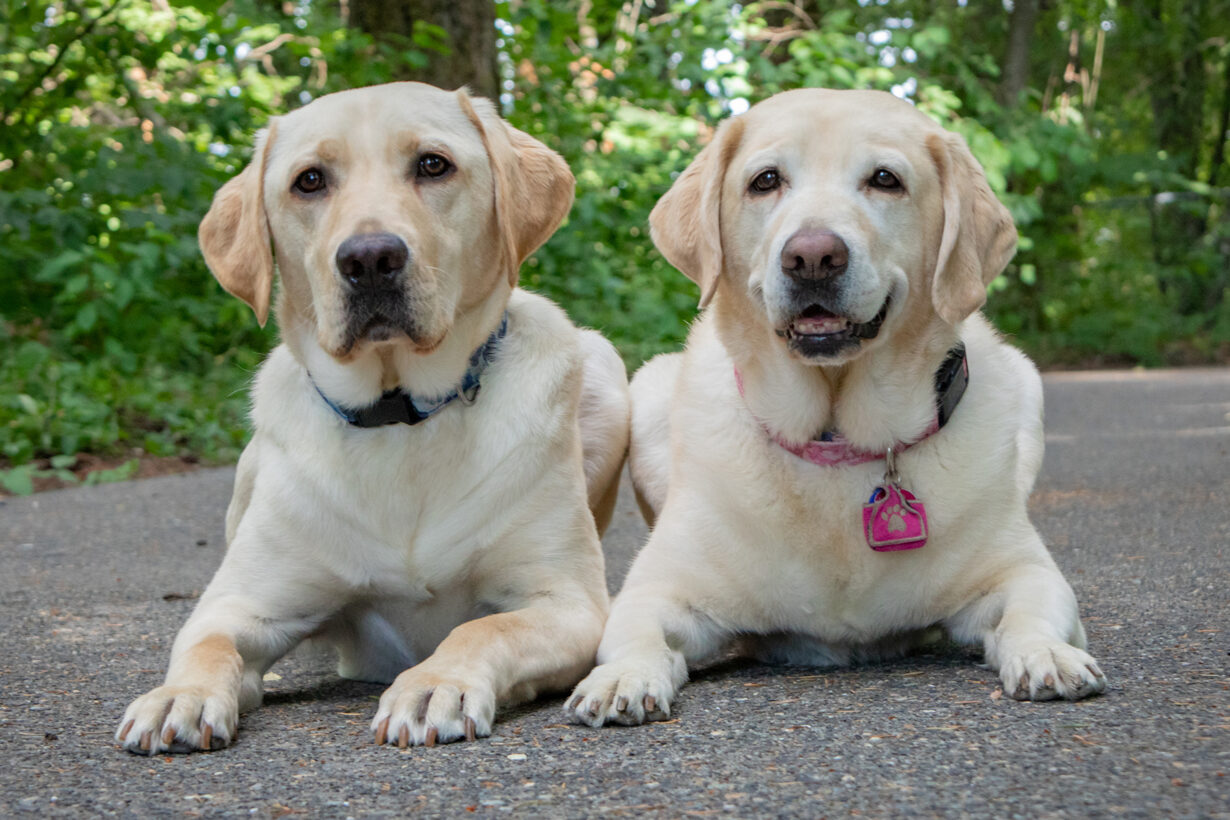 Interested in adopting one of Guide Dogs for the Blind's dogs that hasn't gone on to become one of our program dogs, or been placed with another working dog organization? (Program dogs include breeder dogs, guide dogs, and K9 Buddies.) We are committed to finding the perfect forever homes for our adoptable career change dogs. Because we receive significantly more applications for adoption than we have dogs available, our selection and matching process is based on suitability rather than on a first-come, first-served basis. Dogs are matched in consideration of the needs of both the dog and the potential adopting home. All of our dogs require a commitment from their adoptive families to spend the time, energy, and possible expense of addressing the individual dog's issues in order to make the match work.
Most of the dogs are between 1 and 2 years old, and can be any of our breeds: Labrador Retrievers, Golden Retrievers, and Labrador/Golden crosses. The regular adoption fee for these dogs is $2000.
The reasons the dogs are dropped from our program are medical or behavioral:
Medical reasons: anything from allergies, cataracts, or arthritis, to varying severities of dysplasia (hip and elbow).
Behavioral reasons: high activity level, poor house manners, high distractibility, low confidence or fearfulness, incompatibility with cats or other dogs, or assertiveness requiring strong handler leadership. Some of these dogs may not be suitable for homes with young children or other pets.
Our dogs are typically highly food motivated and many enjoy dog sports such as obedience, nosework, and agility. Obedience and agility competitors, search and rescue trainers, tracking enthusiasts, and others in dog-related fields are encouraged to apply!
Please note: All of our career change dogs are evaluated for suitability for other types of assistance dog work, and if suitable are transferred to our community partner organizations. None of these dogs may be used as working guides for the visually impaired, nor are they suitable to be trained to perform tasks for persons with other special needs.
Take a look at our adoption criteria to see if you might be a good match for one of our dogs, and we look forward to welcoming you to the GDB family!
Adoption is only open to those living in the following states: Arizona, California, Colorado, Idaho, Nevada, New Mexico, Oregon, Utah, Washington, and North Texas.
Adopters are required to pay a $2000 adoption fee at the time of adoption.
Interested adopters and their families must be willing to travel, at their own expense, to either our San Rafael, California, or Boring, Oregon, campus within a week of being notified by our Dog Placement department that a potentially suitable dog is available. Everyone in the adopter's household is required to meet the dog prior to adoption.
It is required that any dog already in the household be brought to campus to meet the new dog on neutral ground and to improve the likelihood of a smooth transition. All dogs coming to campus are required to be up to date on all vaccinations including canine influenza.
Adopters must be willing to do the following:

Purchase an extra-large size crate for use in the transition to the new home.
Work with the medical or behavioral needs of the available dog.
Attend dog training classes appropriate to the temperament of the new dog. Career change dogs often need further training or behavior modification.
Have either a fully fenced area or kennel run at least five feet in height.
If you meet the adoption criteria, the steps in the application are easy.
Complete the online application (link below).
If we have questions or need further information from you we will contact you by phone. The volume of applications we receive does not permit responses to individual inquiries about the status of an application.
We will contact you by phone if and when we have a dog that may be suitable for you. At that time, you'll receive a detailed description of the dog, including the reason it was career changed from the program, what it was like in the puppy raising home, and what its current needs are (both medical and behavioral).
We will arrange an appointment for you to come to our campus and meet the dog. A meet-and-greet typically takes about two hours. If all parties agree that it looks like a good match the paperwork is done, the adoption fee paid, and the dog can go home at that time.
How much is the fee to adopt a career change dog?
The regular adoption fee is $2000. The adoption fee may be reduced for senior dogs or dogs with specific behavioral or medical needs.
---
How long is the wait to adopt a career change dog?
Because our selection process is based on suitability rather than on a first-come, first-served basis, we do not maintain a waitlist and instead match dogs based upon their individual needs. Applications are kept on file for one year. You are welcome to reapply after one year if you have not been selected for a dog and are still interested.
---
How many dogs do you place in a year?
About 100 career change dogs are available for adoption as pets each year.
---
How many applications do you have on file?
We receive a few thousand applications per year. We are especially seeking applications from experienced dog handlers and people with an active lifestyle looking for higher energy, more assertive dogs. Approximately 5% of applicants end up being matched with a career change dog each year.
---
How much training have the dogs had?
The amount of training varies widely. Most of the dogs are house trained and have had at least some basic obedience training from a volunteer puppy raiser. Dogs can be career-changed at any stage in our program, and have not necessarily had formal training by Guide Dogs for the Blind staff.
---
What kind of veterinary care have the dogs had?
Dogs are spayed or neutered and have received vaccinations and heartworm preventative prior to being placed in adoptive homes. In addition, the dogs have had hip and elbow X-rays, and most have had eye examinations by an ophthalmologist. Adopters are given the dog's complete medical history.
---
What are the fencing requirements for the adoption of a career change dog?
We require that there be a fenced area at least five feet in height. It must be a safe and secure area with no obvious hazards to a dog. A kennel run can also meet our requirements (pre-fabricated runs are available from hardware or home improvement stores); runs must be a minimum of 6' wide x 12' long x 6' high. If you do not currently have an approved enclosure, but are willing to install one within a few days of being notified of a potential dog match, please indicate this on the application.
Please note that putting up a fence or installing a kennel run does not guarantee receipt of a dog. It is is your responsibility to ensure that fencing requirements are met prior to taking an adopted dog home. Our career change dogs may not be left alone unattended in a yard.
---
Is electric or invisible fencing acceptable?
Electric or invisible fencing does not meet our requirements for a couple of reasons. The lack of a physical boundary does not prevent people or other animals from entering your yard and potentially interacting with your dog. Furthermore, an invisible fence may not provide a suitable deterrent to all dogs, who may cross the fence line if distracted or intently focused on chasing another animal, such as a squirrel or a cat.
---
How do I apply to adopt a dog?
If you meet the career change adoption criteria, please complete our secure dog adoption application.
---
Do I need to fill out separate applications for each campus (California and Oregon)?
Only one application is necessary; both of our campuses share a common database. The application provides an opportunity for you to indicate which campus you are able to travel to in order to meet a dog (a campus visit to personally meet the dog is required).
---
How do I check on the status of my application?
Immediately after submitting your application, you will receive an on-screen confirmation that it has been submitted successfully. Your application will remain active in our database for a one-year period (or until a successful match is made, whichever comes first). At the end of the one-year period, if you're still interested in obtaining a career change dog, you'll need to submit a new application. Please do not contact us for status updates. We will contact applicants who may be suitable for any of our current career change dogs.
---
Can I drop by the campus to talk with you further about a dog?
The Dog Placement staff is unable to meet with applicants on a drop-in basis. We'll contact you if we need further information or if we have a dog that may be suitable. However, our campuses always welcome scheduled visitors, and we encourage you to book a tour to visit our facilities.
Apply to Adopt a Career Change Dog
If you've read our adoption criteria and are ready to apply, click here!