Guide Dogs for the Blind (GDB) was the subject of a docuseries on Disney+ based on the award-winning documentary film, "Pick of the Litter." Visit our Pick of the Litter page to learn more.
Guide Dogs for the Blind in the News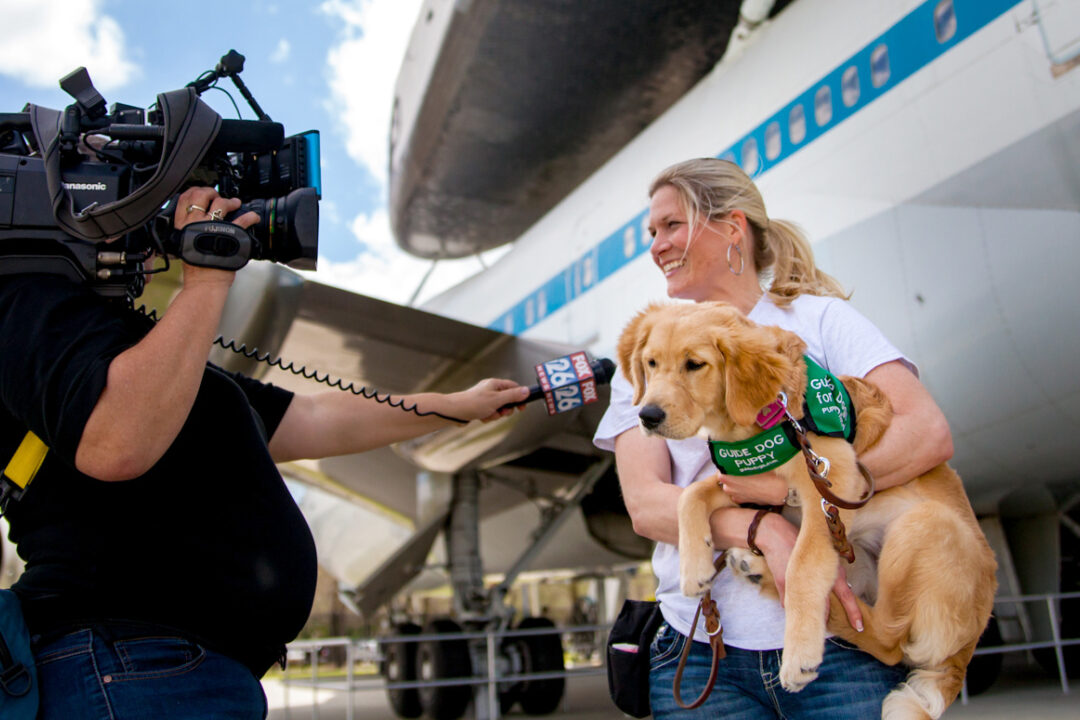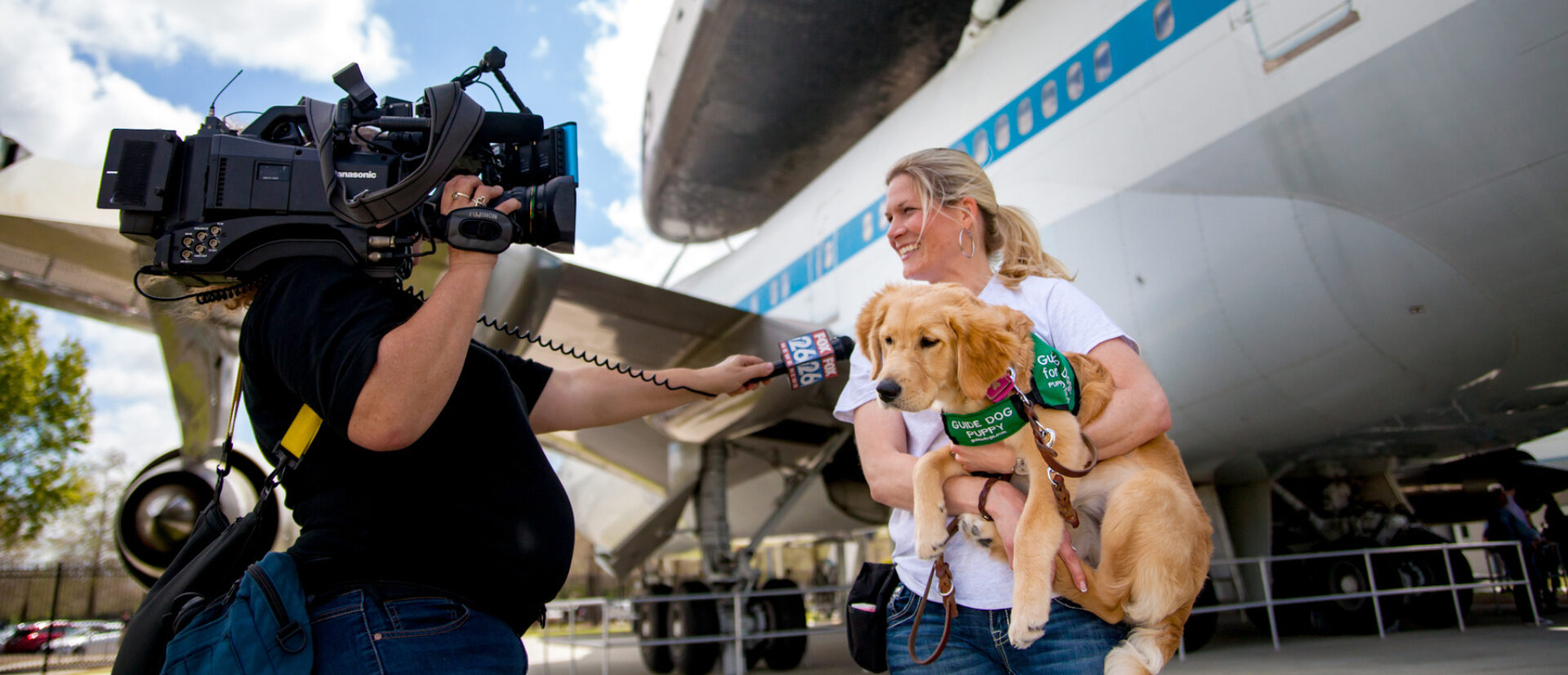 KTVU | Guide dogs in training make new friends at the Cal Bears Football team practice
Pamplin Media Group | Carina's Bakery offers recipe for disabled representation
KTVU | First pups born in the Guide Dogs for the Blind Puppy Center return for training
Business Wire | Guide Dogs for the Blind Launches Video to Educate Public Transit Agencies and Operators on Inclusion

AP | Gov. Newsom Signs Bill to Combat Emotional Support Animal Fraud
TriMet | TriMet keeps people with disabilities moving during the pandemic
BusinessWire | Guide Dogs for the Blind and The Seeing Eye Create Video to Help Airlines and Airports Assist Travelers Who Are Visually Impaired

Huffington Post | As a Blind Person, COVID-19 Has Changed My Life
AP | Teacher trained 56 guide dogs, passed legacy to students
TIME Magazine | How science is revolutionizing the world of dog training

AP | Guide Dogs for the Blind and American Foundation for the Blind launch extensive research study
Business Wire | Guide Dogs for the Blind partners with Be My Eyes
KVIE | GDB client featured in PBS' ViewFinder: Life after Sight
KOLO | Training guides in the Pandemic
A Shared Vision | Art reflects life in Disney's Pick of the Litter
KOIN | Guide dogs in training social distance
Portland Society Page | Puparazzi photo contest raises much needed funds
Oregon Live | Disney Plus series about Guide Dogs for the Blind is heartwarming holiday viewing (and there's an Oregon connection)

KTVU | Bay Area guide dogs star in new Disney+ series
ENews | Meet Pick of the Litter's Pacino, His Human Kiel and Their Emotional Bond

KOIN | Tactile art displayed at Portland Art Museum
Toronto Star | Blind walking club finds magic and music on the beach boardwalk
CBS Bay Area | Volunteer socializes thousands of puppies in their journey to becoming guide dogs

Huffington Post | This is what it's like to train dogs to guide blind and visually impaired people
NBCLA | Retired guide dogs honored at Hollywood Paw-ty

CP24 | Pick of the Litter makes its international debut in Toronto
Marin Magazine | Red Carpet Puppies in San Rafael
Fox 26 | National Puppy Day at Space Center Houston

PCTV | Pick of the Litter documentary debuts in Park City

SFGate.com | Guide dog puppies create quite a stir as they ride the Muni Metro downtown
KATU | Guide Dogs for the Blind celebrates 75 years
DallasMavericks.com | Dirk meets Swish the Puppy
KOMONEWS.com | Adorable guide dog puppies meet their raisers in downtown Portland
People.com | Group of Guide-Dogs-in-Training at Airport is Everything Air Travel Should Be

The Marin IJ | Puppy love for woman who raises future guide dogs for the blind

NBA.com | Klay Thompson meets service dog named Klay
The Marin IJ | San Rafael's Guide Dogs for the Blind sets ceremony for puppy center project

NBC Bay Area | Grad Tom Kowalski and His Guide Dog Dynamo
KVAL Eugene Oregon | Benton County Puppy Raisers
If you're a member of the media in search of a good story, you've come to the right place. We have a million different stories to tell, and a million different ways to tell them. So, whether you're looking for a heartwarming tale with a happy ending, a compelling angle for a story about the good things kids are doing these days, a feature about a person who is blind or visually impaired, or insights and advice from any number of our professional experts on topics from veterinary care to estate planning, we're your go-to resource.
SF/Bay Area and National PR Representative - Barbara Zamost, Zamost Public Relations
Contact Barbara
Pacific Northwest Representative - Jen Scott, Grady Britton
Contact Jen
Photography Policy
Guide Dogs for the Blind (GDB) allows photography on our campuses during graduation ceremonies and tours for personal use. However, the sale, rental, or commercial use of photography is prohibited (this includes photos or video of our facilities/grounds, dogs, clients, volunteers, and staff). Professional editorial photography or videography must be approved in advance by GDB's Marketing Department. Please contact VP of Marketing and Communications Karen Woon for more info: [email protected]