Guide Dogs for the Blind's History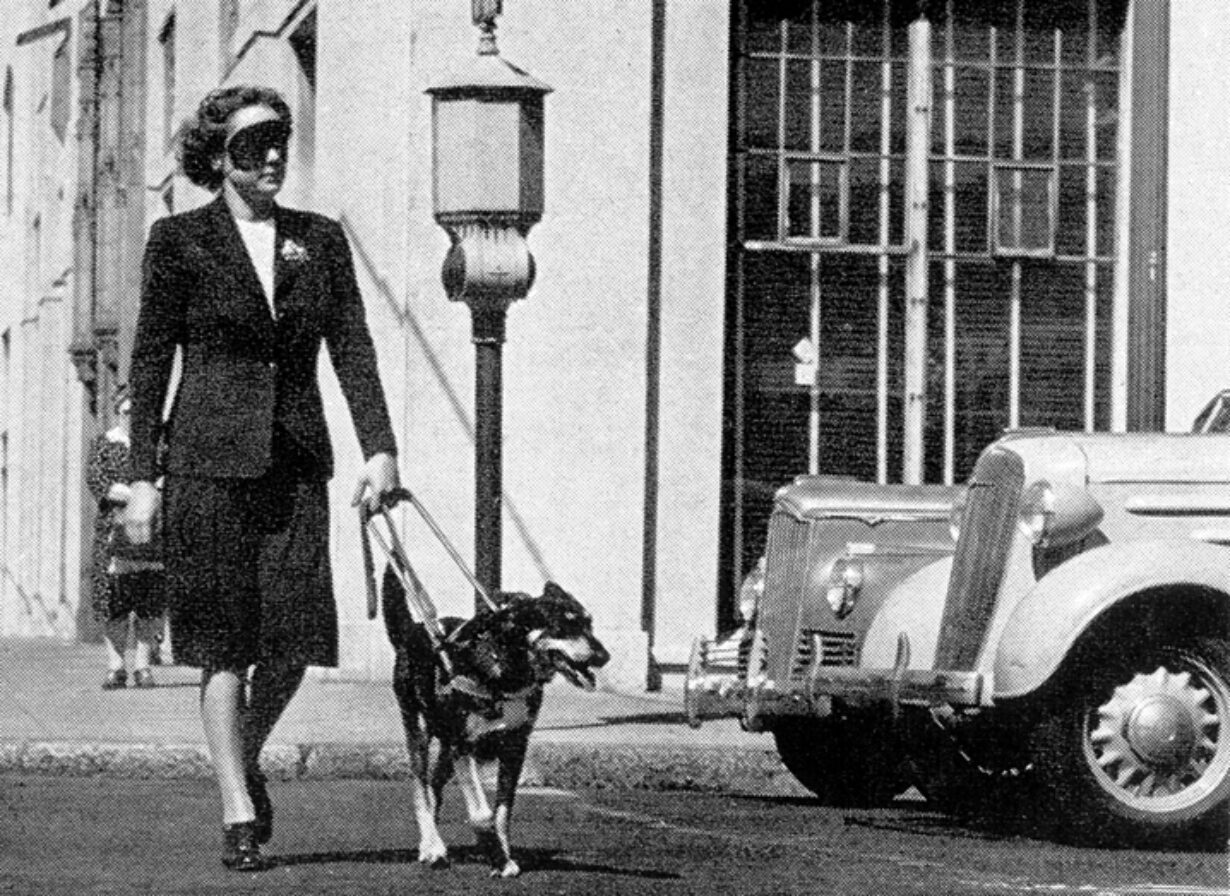 It all began with a dream—the dream of creating the first guide dog training school on the West Coast. It was a dream shared by Lois Merrihew and Don Donaldson who volunteered their efforts along with many others. They believed in the potential of dogs to serve as guides for people who were blind or visually impaired.
America's involvement in World War II brought the realization that veterans who had been blinded in combat would be returning to San Francisco from the Pacific Ocean Theater. Lois and Don offered their expertise to the American Women's Voluntary Services (AWVS). With the help of AWVS Director Mrs. Stanhope Nixon, San Francisco Chair Mrs. Nion Tucker, and others, Guide Dogs for the Blind (GDB) was born.
Guide Dogs for the Blind was incorporated on May 27, 1942, and Lois and Don began training dogs and instructing students from a rented home in Los Gatos, California (south of San Jose). A German Shepherd named Blondie, who had been rescued from a Pasadena dog shelter, was one of the first dogs trained.
Guide Dogs for the Blind's first class consisted of two students, Mr. Lemoyne Cox of Oakland, and Mrs. Marjorie Cosgrove of San Francisco, who were paired with Lady and Vicki, both German Shepherd dogs. The third class in October 1943 included the school's first World War II veteran, Sgt. Leonard Foulk. At age 26, Foulk was blinded when his binoculars were hit by sniper fire at the Battle of Attu. He graduated with Lois and Don's original training dog, Blondie.

In 1947, GDB moved to the present location of our California campus in San Rafael, California (about 20 miles north of San Francisco). In order to meet the increasing demand for our services, we opened a second campus in Boring, Oregon (about 25 miles east of Portland), in the Fall of 1995. The first class of guide dog clients at the Oregon campus graduated in October of that year.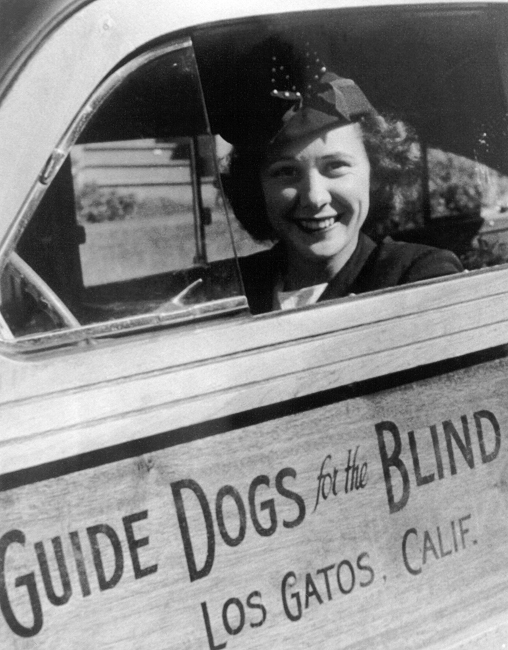 The year was 1941. It was on California Street in downtown San Francisco that Lois Merrihew remembers first hearing that the United States would enter World War II.

Years before, she had decided to pursue her childhood dream to train dogs as guides for people who were blind. An east coast guide dog school told her that women were not hired as trainers - that they were not considered physically or emotionally fit for such work. That response solidified her resolve to become a guide dog trainer. She joined with an established guide dog trainer, Don Donaldson, and Hazel Hurst as an administrative assistant/fundraiser, to form the Hurst Foundation in Monrovia, Calif.

"[In] 1941, Mr. and Mrs. Donaldson, Blondie (our dog saved from the pound), and I went to San Francisco," Lois said. "With the support and backing of D.M. Linnard, formerly a Hurst Foundation director, we lectured, demonstrated guide dog activity, and promoted the idea of a guide dog school for the blind in northern California. Under Don's tutelage I finally learned to train dogs for the blind."

"Of any of my accomplishments, I am most proud of California Senate Bill #2391, passed in 1947, setting standards and licensing for both [guide dog] trainers and schools," she said. "Before then, anyone could 'train' and sell dogs to blind persons, without any guarantee of proper training." Lois was the first woman to become a licensed dog guide instructor, and eventually even became the Guide Dogs for the Blind's director of training.
---
"Passing By"
by Lois Merrihew (written in 1939)
I saw a man and a dog pass by
And the dog was his master's seeing eye.
The sight, to my eye was a joyous feast
And I pondered the worth of the noble beast.
What better reason has one to live
Than have a service that he can give?
To be of help on life's rough road
And help another to carry his load?
I envied the dog with the seeing eye
As he led his master so proudly by,
Ever alert to his master's care
And proud of the cross he had to bear.
No thought of greed, no selfish whim,
No motive mean to hamper him.
Proud of the privilege to serve and be
The eyes for his master who cannot see.
Giving his life with a joyous heart
Willing and eager to do his part.
No wonder I was thrilled as they passed me by
That man and his dog with the seeing eye.