College classes are just around the corner for freshman Ethan Edwards, and he's looking forward to campus life at Illinois State with his guide dog Ginsburg.
The 18-year-old journalism major and recent GDB grad, has been traversing the campus with his guide dog Ginsburg mapping out walking routes to prepare for the fall semester. "I learned to be self-reliant with a cane but having a guide dog gives me that extra confidence and peace of mind when navigating my way through campus," says Ethan.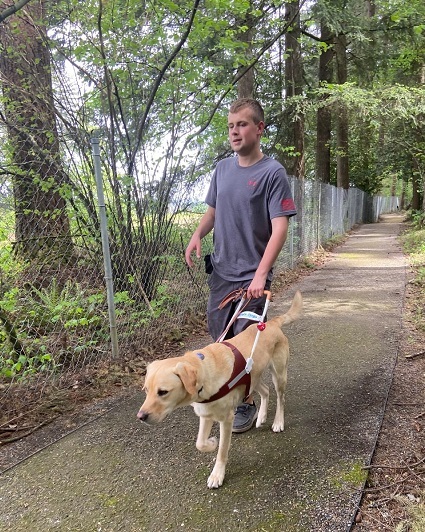 Ethan says Ginsburg also makes it much easier to meet people. "Guide dogs really are a social bridge. Everyone wants to talk with you when you're walking with an adorable yellow Lab. I'm eager to take on every opportunity to talk with people, educate them about guide dogs, make new friends, or whatever the situation entails."
Ethan always knew he wanted a guide dog, but it wasn't until he attended Camp GDB and experienced what it was like to walk with a guide dog and care for a guide dog that he was hooked. "Camp definitely cemented my decision." Ethan enjoyed camp so much, he returned the following year to attend a second session. "The camp is a great way to meet other teens who are blind or visually impaired. Besides spending time with a guide dog, we had general fun camp activities like white water rafting, campfires and biking."
When Ethan applied for a guide dog, he was impressed with GDB's admissions team. "People are there to help you – there's extensive outreach." During training, Ethan says he appreciated the smaller class size and one-on-one attention. "They quickly address any concerns you may have."
When asked to describe the guide dog lifestyle, Ethan says: "My guide dog provides me with companionship, increases my opportunity to be more social with other people, and provides me a sense of adventure."
As he prepares for college life, Ethan says wants to thank GDB for matching him with such an awesome dog. "He's smart and such as fast learner. I am amazed how fast he learns new routes and where various classroom doors are. When we work together it's like we have a telepathic bond. Ginsburg knows how to help me, and I understand what he's trying to communicate."
Click here to learn more about the guide dog lifestyle.
Click here to learn about our application process to get a guide dog.