There's a special magic about Guide dogs for the Blind (GDB). Some might say it's the dogs. These courageous guides who change people's lives. But there's magic in the people too. Members of our Canine Welfare/Neonatal team recently shared a peek inside our Puppy Center in a series of social media posts where the magic between puppies and people begins. Following are their chronicles.
7:30 am: Meet Alex, Michelle, and Jenna!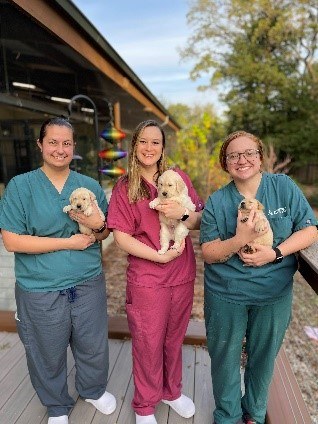 Today, we're sharing a behind the scenes look at what our Canine Welfare/Neonatal team does and how we care for GDB's mama dogs, dads, and puppies! Have you ever wondered what the dogs in the breeding colony do while they're here on campus? Or what types of socializing young puppies undergo? Read on for answers!
8:00 am: Well Check!
Each morning starts with a well check for the pups in our Puppy Nursery. This morning, we're giving this Golden Lab cross puppy a weight check, trimming nails, and freshening up the pup's identifying marker. Fun fact: Puppies are not officially named until they go to their raisers' homes, so we shave small patches of fur on their bodies to help us tell these little ones apart. This pup has a clip on their right shoulder.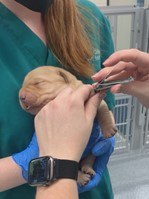 8:45 am: Pups Learn to Eat and Drink!
Even before they're weaned from their mama, our team works with the puppies to help them learn how to do things like drinking and eating independently. We make sure that the process for them to be introduced to these skills is positive and rewarding. For example, pups learn about the Lix-it, which is the watering system that we use throughout the Puppy Center. It eliminates spilled water bowls and wet pups while ensuring they always have access to clean, fresh water.
This litter of pups are trying out a wet, mushy version of the dry foods that they'll be eating when they move from the nursery to the puppy pod. All feedings in the nursery are supplemental as pups remain with their mamas to nurse until just under 6 weeks.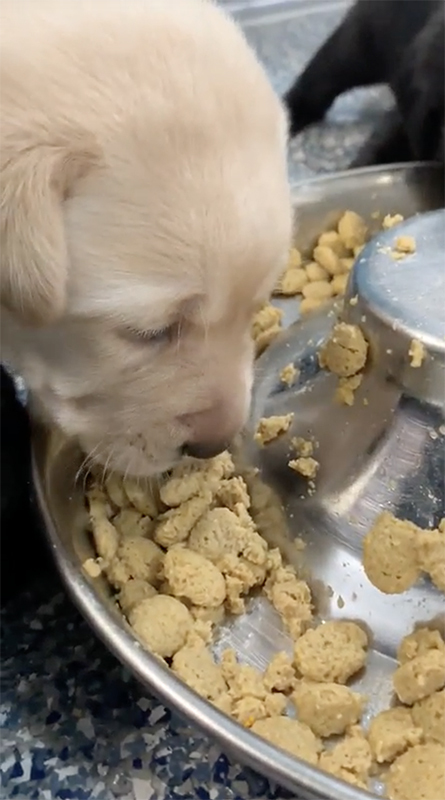 9:45 am: Mamas get pampered!
While the pups learn some basics around food and water, we make sure their mamas' enjoy some pampering for their own health and well-being. Our female breeders lovingly care for and nurture their little ones, but they also need some time away while our team keeps a watchful eye on the litter.
We have dedicated spaces for mamas to stretch their legs, get some pampering, and have some fun while they're in the nursery with their babes. Our team uses techniques like nose work and obstacle courses to keep the dogs mentally and physically engaged and help along their postpartum recovery.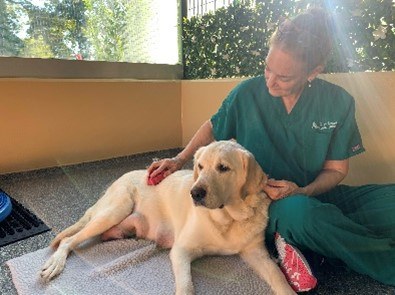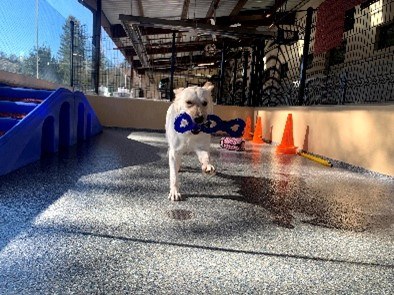 10:30 am: Puppy Socialization!
Puppy socialization in the nursery can happen with and without mom, but always under the watchful eye of our team members. During their socialization process, pups are exposed to new sights, sounds, and situations through positive play and handling.
Mamas watch as their pups explore new toys and surfaces.
The pups have fleece wrapped around their mid-sections to help them learn how to wear something on their body. This will help down the line when we introduce puppy coats and eventually when they are introduced to their guide dog harness. Providing new and novel experiences in a low-stress, supportive environment gives these pups a significant leg up on meeting life's daily challenges as they continue to develop, setting them up for success in their careers. In the second video, young pups explore new things inside a fleece-lined pool filled with novel toys and textures.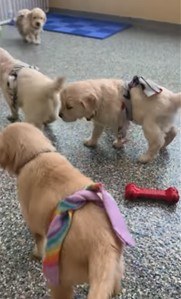 12:00 pm: Perinatal Support for Expecting Mothers
Perinatal support for expectant mamas also falls under our responsibilities. The moms come back to campus a few days before they're due so that they can get a pampering spa treatment and remain under 24-hour supervision. This sweet girl comfortably allows us to utilize our portable ultra-sound machine to check on the health of her unborn puppies. For her comfort, she's on a low pad designed to cradle her growing body and she's getting lots of love and praise. She even decided to take a nap while we listened to their heartbeats.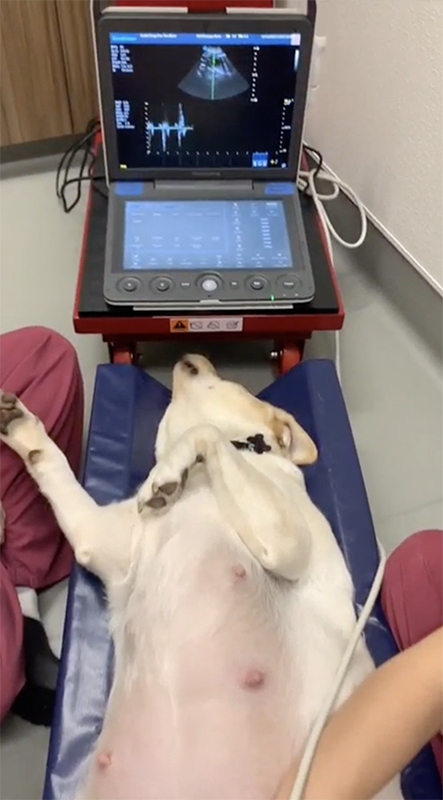 12:45pm: Clean up and Puppy Check
A couple of times a day, we move litters from one side of the kennel to another so that we ensure each side gets thoroughly cleaned and sanitized. This gives us yet another opportunity to reinforce body handling with the pups and make sure that everyone is in good health while mama keeps a close watch.
A cool feature of our kennels are the lower wall access between sides. This gives mamas a chance to step over and take a breather when they need it, while little ones play and snooze safely on the other side.
Here a GDB team member does a physical check on a yellow Lab puppy, inspecting their body, ears, face, paws and belly before setting the pup into the kennel with yellow Lab mom.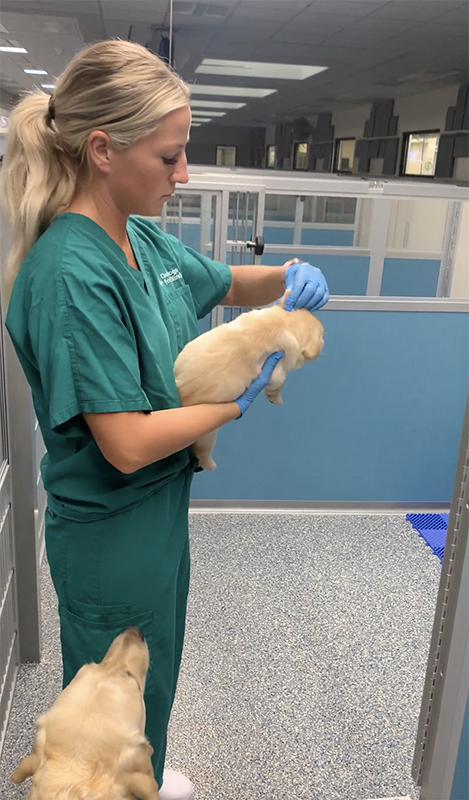 1:00 pm: Playtime in the Puppy Pod!
Once our pups are old enough to be away from mom (typically around 6 weeks), they move from the Nursery into the Puppy Pod. Here they have a chance to gain more socialization skills before they go to their raisers' homes. Our team gets to work in both the Nursery and the Puppy Pod, and we love seeing these little ones grow up.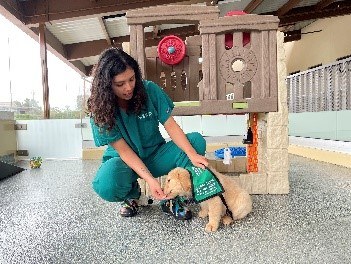 2:30 pm: Clean up Time!
We're going to keep it real. Our job is not all puppy snuggles and play time. We play a critical role in ensuring that the Puppy Center is a safe, clean environment that will help our pups stay healthy and thrive. The state-of-the-art building was designed with all the little details in mind, and all the best equipment to make sure that we can do our jobs to the best of our ability.
The Puppy Center is a bio-secure facility so there are procedures in place to minimize the risk of pathogens entering the environment. All of our equipment and surfaces are designed to withstand frequent cleaning. Staff members perform regular cleaning activities within the Puppy Center. Here, a staff member pushes an electric scrubbing machine across the floor that scrubs and sanitizes the walkways.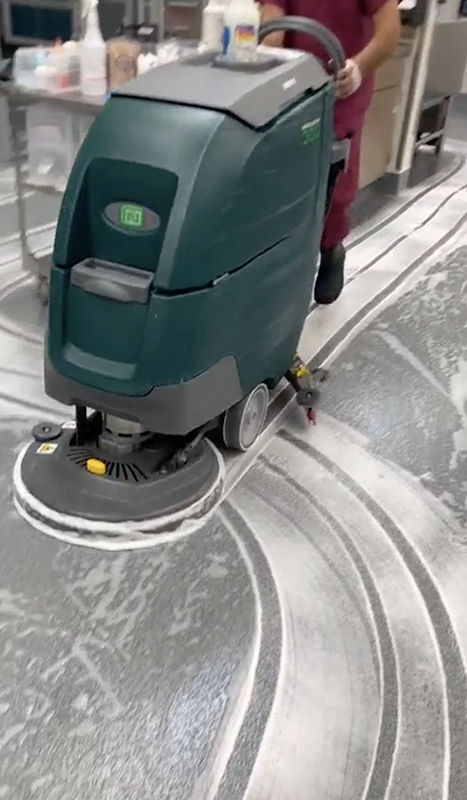 4:00 pm: Bath Time!
Our team is also in charge of care and enrichment in our Boarding Kennel where breeder moms and dads stay when they are on campus. Intact (not spayed or neutered) dogs get their own special section of the kennels and lots of attention and play time with our staff and volunteers. It's bath time for our Boarding Kennel guests!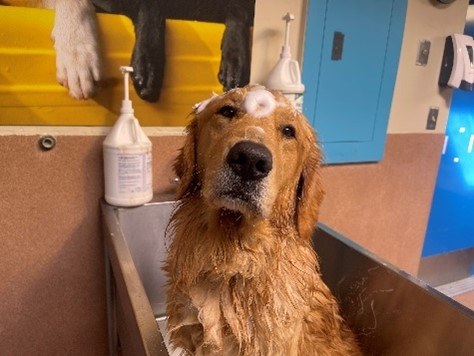 4:30 pm: Time for a Walk!
Staff and volunteers make sure that pups in the Boarding Kennel get lots of exercise and play time throughout the day. These pups play an important role in creating the next generation of guide dogs for GDB and they get all the perks of that important job.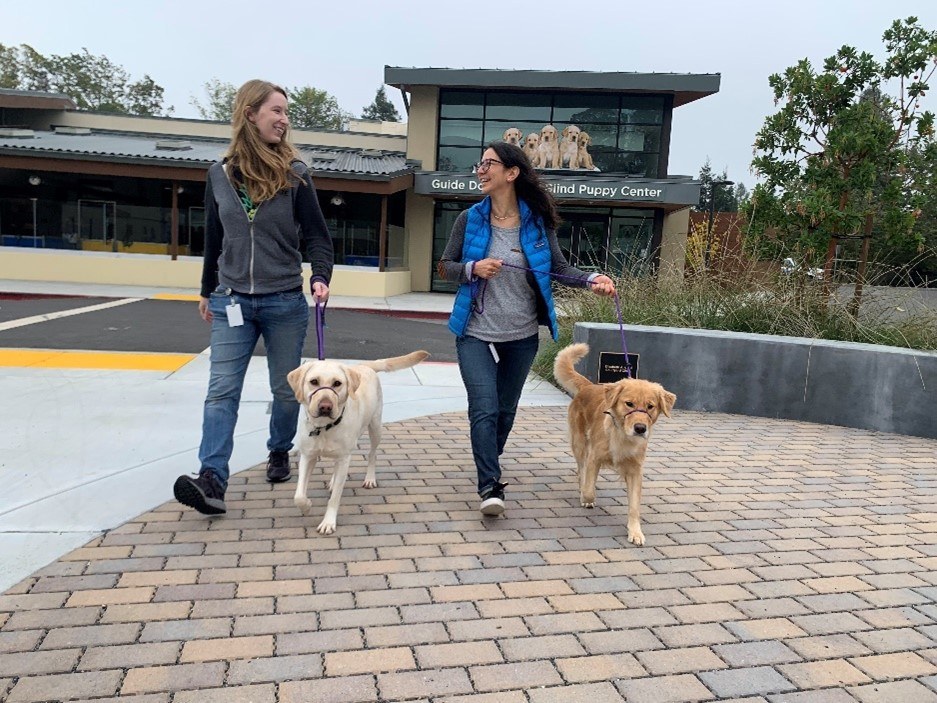 6:00 pm: Dinner Time!
While each pup has its own personality and traits, they are unanimous in their love of mealtime! GDB feeds our dogs well-balanced, nutritious dry kibble based on their age and dietary needs. The feeding routine that starts in the puppy center will be continued in their raisers' homes and eventually in the client's home. Kibble is also a critical tool throughout training.
8:30 pm: Bedtime in the GDB Nursery!
Our pups are exhausted from a big day and this mama gets a much-needed snooze nearby.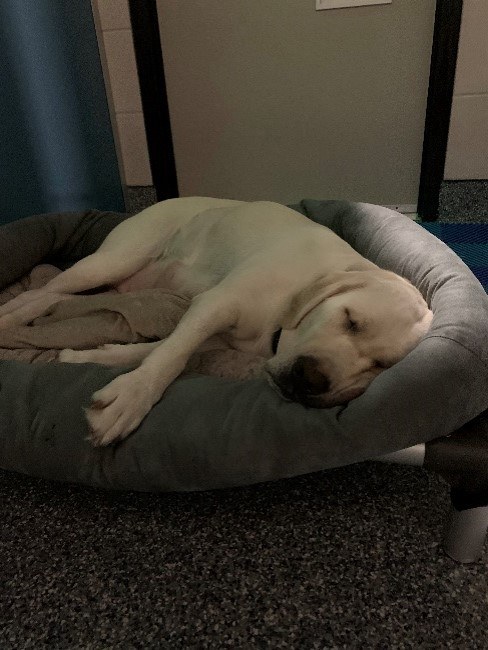 The environmental controls in the Puppy Center help our little ones get used to the rhythms of day and night. The Puppy Center is staffed 24 hours a day, so there will be someone on site for those middle of the night bathroom breaks or supporting late night births.
We hope you enjoyed this behind the scenes look at a typical day for the Canine Welfare Neonatal Department at Guide Dogs for the Blind! We work closely within our department and with other departments to start these dogs off on the best foot (or paw) that we can, giving them the best chance for success in their career as a guide, breeder, K-9 buddy, or whatever path they end up taking in life!
Make a donation to support our mission!
Our team is hiring! Join our department!