A big shout out to Tami Shankle, a GDB Community Field Representative who was instrumental in helping GDB receive one of its largest gifts ever this summer! The donation was a bequest from a woman in Monterey, California who passed away several years ago and left GDB 90 percent of her estate.
GDB President and CEO says the multimillion-dollar gift is an inspiring example of how everyone at GDB can have a huge impact on GDB's Culture of Philanthropy. "Without Tami, we would not have known about the donor's interest in GDB, and the gift likely would not have come about.
As Tami tells it, the Monterey donor was involved with miniature donkeys (as is Tami) and had many on her property. A friend of the donor, a miniature donkey breeder, was also a mutual friend of Tami's. The friend told Tami about the donor's desire to eventually donate all her properties through an estate gift to charity and mentioned the donor's interest in knowing how charitable remainder trusts worked. The friend knew of Tami's work with GDB and suggested GDB to the donor as a great organization to work with. Tami then reached out to GDB's Planned Giving Department whose staff made contact directly with the donor and started the process of facilitating the gift.
"We are so grateful to Tami for passing on this lead and making this extraordinary gift possible," says Tom Horton, director of international planned giving for GDB.
"It's a great feeling knowing that I've helped GDB," says Tami, a 25-year-veteran GDB employee who oversees puppy clubs in her geographical territory and designs behavior plans and conducts formal evaluations on puppies raised by volunteer puppy raisers.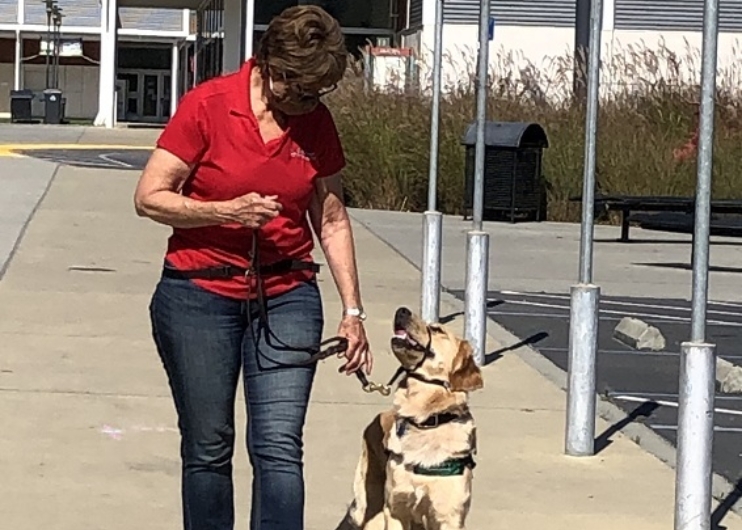 Tami was overcome with emotion when she first heard about the bequest that was left to GDB. "Guide Dogs for the Blind has changed my life in so many ways and to be a part of this amazing gift to the organization is huge to me. It's just a wonderful feeling."
When asked what advice she would give others who want to help facilitate meaningful gifts to GDB, Tami's advice is to share your passion. "I know it sounds cliché, but when you love what you do and share that passion about your organization–that's really powerful. People pick up on your honesty and that resonates with them," says Tami. "I'm so proud to work at Guide Dogs for the Blind, and I think my passion for the organization shines through when I talk about our mission and what we do."
Click this link to read more about our Planned Giving program.

Click this link to learn about our Puppy Raising program.
Click here to learn about employment opportunities and the benefits of working at GDB.