At Guide Dogs for the Blind, our industry-leading dog programs, which include everything from breeding to veterinary care, are led by highly trained and dedicated staff. We are always working to improve programs by employing new methods and innovative techniques to ensure all of our dogs have the best care possible at every phase of their lives.
The Veterinary Team at GDB is proud to share that as of June 2021, all veterinary department staff members on both the California and Oregon campuses of Guide Dogs for the Blind are now Fear Free certified professionals. The Fear Free certification is recognized throughout the industry as the standard of skills and professionalism needed to understand, recognize, and alleviate fear and accompanying stress on dogs in the course of their care. This holistic and transformative approach reduces fear, anxiety, and stress, and creates an experience that is more enjoyable and safer for all involved, including our dogs, clients, volunteers, and staff.
GDB is the first guide dog school in North America to acquire Fear Free certification of its entire veterinary staff. With 100% clinic staff certification, our teams have seen a positive impact on not only our veterinary practice, but the culture of care and leadership that we are so proud of at Guide Dogs for the Blind.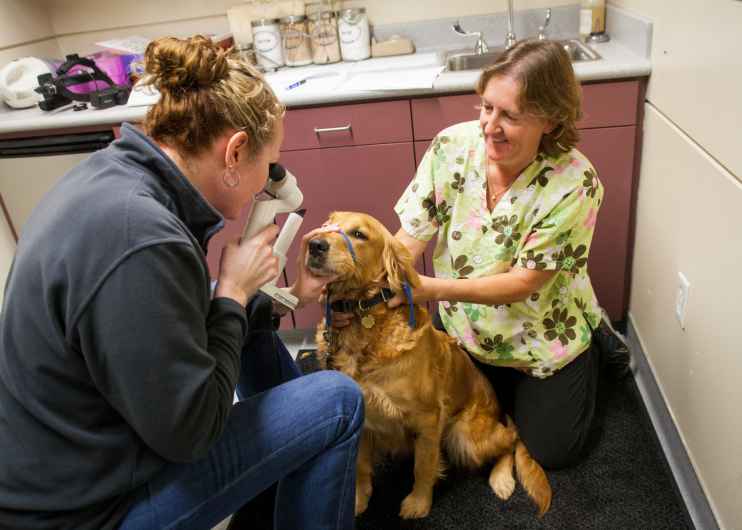 "The training that we received as part of our Fear Free certification helps inform not only our practices in the clinic but gives us to the tools to educate and empower our clients to use the same strategies in their homes in the daily care and handling of their dogs," says Shannon Delahunty, Veterinary Clinic Manager at Guide Dogs for the Blind. "These tools ensure that dogs will have a positive experience throughout the process of receiving care, and allow our staff, volunteers and clients to build trust beyond the veterinary exam."
Examples of changes seen in the clinics include more liberal use of treats as distractors, some modifications in handling such as use of soft, calming voices instead of excited voices, two-person handling with one person's primary job being soother, and more verbal recognition when a dog is displaying signs of fear, stress and anxiety, followed by informed discussion and implementation of ways to minimize this response.
The commitment to having all GDB veterinary department staff Fear Free certified was extensive and involved everyone from veterinarians to Registered Veterinary Technicians, as well as Veterinary Assistants and our outstanding client support team and Veterinary Financial Assistance specialists. Each member of the team received nine hours of training with the commitment to annual, on-going continuing education requirements. The certification also provides a network of highly skilled, like-minded veterinary professions throughout the US and Canada to learn from and collaborate with.
"Our decision to get the veterinary staff certified is consistent with our organizational philosophy of using positive reinforcement methods to set our dogs up for success," says Dr. Kate Kuzminski, Medical Director at Guide Dogs for the Blind. "We were among the first guide dog schools to take this approach nearly a decade ago and this certification is the next step to help us continue building a strong foundation of trust for our teams."
---
Learn more about GDB's industry-leading veterinary services and our Veterinary Financial Assistance program.