By: Patti Ehle, GDB Utah Alumni Chapter Vice President of Greatest Paws on Earth
This Halloween costume contest clearly went to the dogs. On October 25th, approximately 50 puppy raisers and guide dog users joined together in Salt Lake City, UT for the third year of an outrageous Halloween costume contest. Special thanks to the GDB puppy raising club, Paws to Love, who led the event! Also making an appearance was Lauren Ross, GDB Field Service Manager from Chicago who has been working in Utah with guide dog users this month, and Lauren Grimditch, GDB Community Field Representative, who was there visiting from Colorado.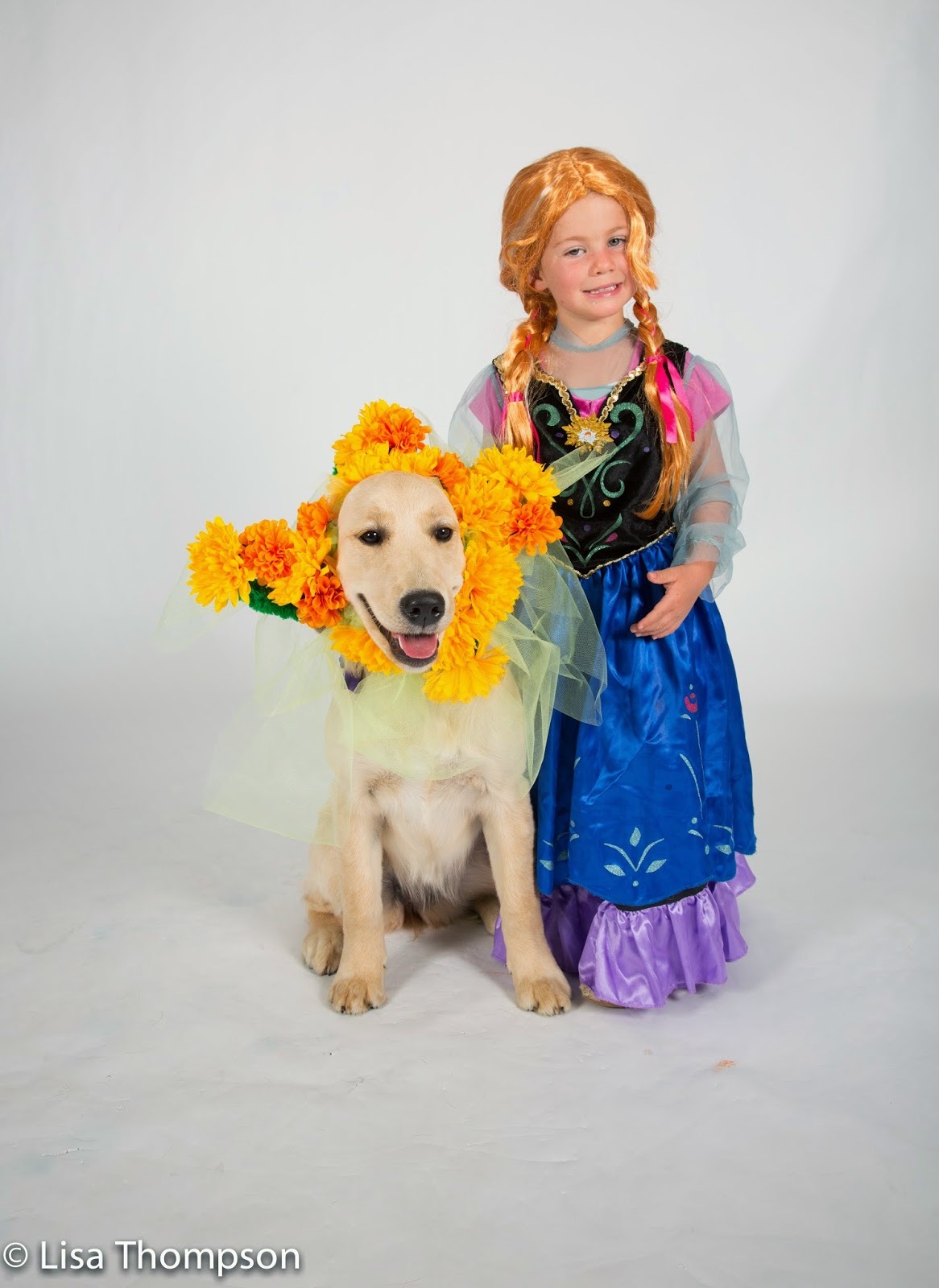 Every one of the 25 dogs was dressed and ready to shake a hula skirt or balance a coffee cup on their head for the judges. Everyone had clever costumes like GDB graduate Morris Bowman and his guide Daniel who wore formal wear with real doggie tails. Other highlights from the puppy raisers included: a Star Wars themed dog costume, Little Red Riding Hood, and Kermit the Frog. Puppy raisers Stephanie and Myka dressed Marigold with a marigold flower crown, and Karen Fuller's dog was dressed as a travel brochure. One of the youngest dogs was entered by The Davis family who dressed up Will, a very young Golden Retriever, in a football jersey that said "wide retriever."
For the contest, there were 3 categories of costumes: Namesake, Halloween and Team. First place for the Halloween category was Gwen with the Starbarks costume (handled by puppy raiser Hannah Thompson). First place for the Team category was Smitty's Starwars costumes, and first place for the Namesake category was Rocket. The overall costume contest winner went to puppy raisers Megan and Haley with their puppies Paris, Denmark and Dinah dressed as Flora, Fauna and Merryweather, the three godmothers in Sleeping Beauty.
Prizes ranged from a large dog bed and dog treats to all sorts of dog goodies to make any puppy cheer!  Even a Kindle was a huge surprise to the puppy raiser who excitedly received it. All prizes were generously donated from business like: R.C. Willey, Petsmart, Great Harvest, North American Pet Company, and many other wonderful supporters. Thank you all for coming out in style!
All photos by: Lisa Thompson