Zachary "Zack" Thibodeau was 8 years old when he first started going blind. Living with the constant stress of uncertainty about his future became his new normal. His mother, whom he calls his greatest advocate, contacted Guide Dogs for the Blind (GDB) to see how we could help. Zack was too young for a guide dog, but the perfect age for our K9 Buddy program, which matches children and young adults with special dogs to be their companions. His K9 Buddy Natura changed his world.
"From the moment I met her, she calmed my fears, helped me build my confidence and made me realize that I wanted a guide dog of my own," says Zack.
A few years later, Zack attended Camp GDB, a weeklong summer camp at Guide Dogs for the Blind that gives teens ages 14 to 17 the opportunity to meet other teens from across the country who are helps are blind or visually impaired. In addition to participating in fun activities like bicycling, hiking, and kayaking, teens explore the companionship, independence, and responsibility of having a guide dog. Zack's summers at Camp GDB further solidified his goal to get a guide dog.
In late 2019, Zack's dream came true when he was paired with Namath, a black Labrador Retriever. Now age 18, Zack and Namath have been a guide dog team for a year. Zack recently spoke at our Virtual Holiday Celebration about how thankful he is for Namath and their life-changing partnership.
"Namath is amazing. He makes me so happy and he's so playful. But most importantly, he is a trustworthy companion that I can rely upon. When in school he helps me move quickly and confidently through the halls. Furthermore, I have an active social life and he helps me navigate through many difficult obstacles. And this year, he's been a great companion during the pandemic."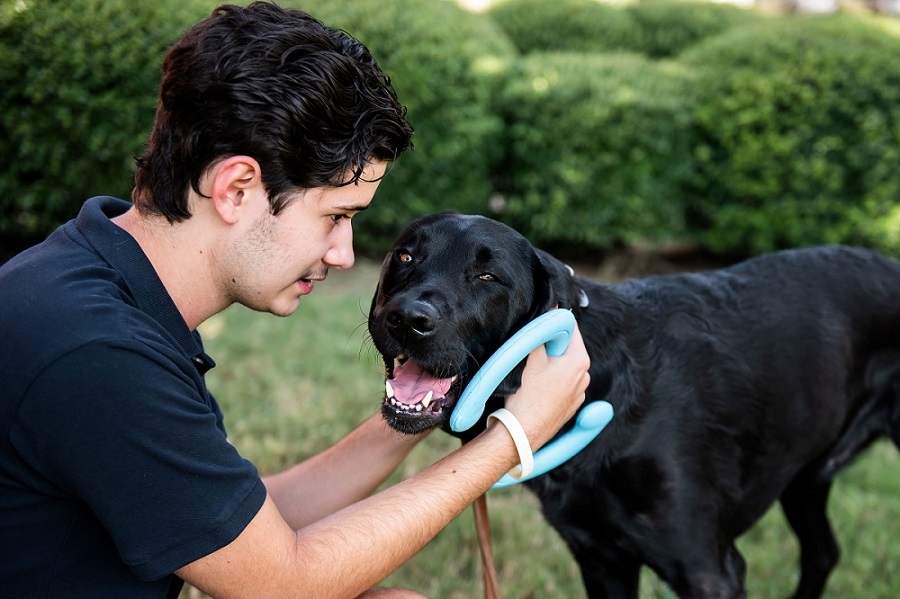 As a senior in high school, Zack is looking forward to attending college. He's applied to Vanderbilt, Notre Dame, Harvard, Yale, and Dartmouth. "I've chosen these schools because I wish to pursue a career in politics so that I can contribute and have an impact in public policy and legislation," explains Zack.
As he reflects on the past several years, Zack acknowledges that it's been a long road since he first received his diagnosis in 2010. "There were many fears and there were many times that I was afraid that I would miss opportunities and I would not be able to do things on my own. Because of Guide Dogs for the Blind, first with my K9 Buddy and with GDB summer camps, I knew there was another option for me."
Now, a senior in high school, Zack says he's excited and confident for his next adventure at college and says Namath is a big factor in how he feels. "When it felt like more and more was becoming impossible, Guide Dogs for the Blind showed me that so much was still possible."
Zack's mom, Johanna, agrees. She has noticed a big difference in Zack with Namath by his side. "With Namath, Zack is much more confident and sociable," she says. "People seem more willing to talk with you and learn about blindness when you have a guide dog." Zack agrees that Namath has changed how he interacts with others. "He's definitely helped me be more compassionate and empathetic towards others. He's given me a lot of skills that I can apply toward my interactions with others. "I think he's has made me a better person."
Zack encourages people to give generously to GDB so that others like him can fulfill their dreams to travel independently and safely with the best possible companion by their side. "I'm so excited and grateful to have a guide dog of my own and I want more people to have this partner, this friend, this trusted ally."
Because GDB does not receive a single penny of government funding, we depend on people like you to support our work. And we need your help to make sure we continue to provide all services free of charge. Thank you and happy holidays!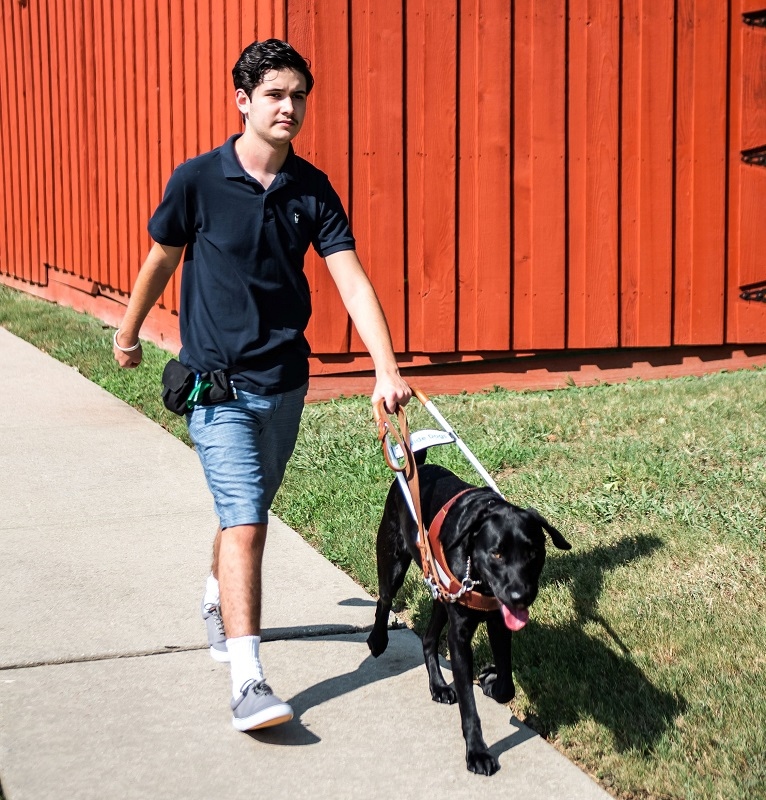 ---
You can help create and support more guide dog teams like Zack and Namath. Make a donation before December 31st and your gift will be matched dollar for dollar up to $100,000!
Read an Associated Press story about Zack and his K9 Buddy Natura, a yellow Labrador Retriever.