We are so thrilled to announce some exciting updates to our K9 Buddy program. The program, which started at GDB in the early 2000s, was created to pair children who are blind or visually impaired with specially selected dogs to be their pets and companions. For a child, a dog can contribute to sensory development, motivate learning, and enhance self-esteem. The free program has been available in ten Western states, and hundreds of children and their families have been introduced to the guide dog lifestyle through this initiative.
Luke Herbert from Washington state has a yellow Lab K9 Buddy named Yeti. "Luke has just grown so much as an individual by really learning to take care of someone other than himself," said Luke's mom, Stephanie. "He's gaining real-life skills from taking care of Yeti that will benefit him far into adulthood. We are so proud of both of them and can't wait to see where their relationship takes them!"
In our ongoing efforts to serve GDB clients more broadly, the K9 Buddy program has now been expanded to include adults who may benefit from companionship and increased confidence by having a dog by their side. In addition, we are now in the process of extending the program to serve people nationwide, and eventually in Canada. As always, K9 Buddy dogs are offered free of charge, and the clients will be eligible for GDB's veterinary financial assistance program as well.
Steve Gomes of Denver, Colo., recently received his first K9 Buddy. Steve had worked with five guide dogs from a different guide dog school over the course of 45 years, but at 67 years old, his travel and physical needs had changed over the years and he no longer had the necessary orientation and mobility skills to qualify to work with a new guide dog. But he longed for the companionship of a dog that was so ingrained in his lifestyle.
"I have had dogs since I was a baby, and it is terrible to be without one. My guide dogs were more than guiding instruments," he said. "That feeling of knowing that a dog is watching out for me and will alert me to a problem makes me feel secure. There are all kinds of things a dog does for me."
Steve initially thought adopting a pet dog could fill the void, but it ultimately didn't work out. "The dog I adopted had absolutely no training and wanted to chase squirrels, rabbits, and anything that moved. Needless to say, I couldn't train her to behave like my former guide dogs. Somehow I took for granted that trainers worked very hard to train my dogs for me." Steve found a wonderful home for the adopted dog with a family that lived on a few acres of land and had other dogs. But that once again left him without a four-legged companion.
"So there I was, without a dog not knowing what to do," he said. But then he called GDB and learned about the K9 Buddy program and that he was an ideal candidate. "It was so exciting!" he said.
He applied, then had an in-person meeting with Michelle Cliborn, GDB's Colorado field manager, who then connected him with the K9 Buddy program manager, Kelsey Gilbert. "I spoke with Kelsey and told her that I was hoping for a 'love bucket' kind of a dog. It wasn't long before she called and said 'I found a love bucket for you!' I was so happy and just couldn't wait. Kelsey is now called 'love bucket control.' "
Before long, Michelle brought this love bucket, a black Lab named Bill, to meet Steve.
"Bill and I bonded immediately," he said. "Everything is working out perfectly. We have several parks and a big cemetery close by where we like to walk every day. Bill is living a wonderful life. I am a retired massage therapist so you can imagine how he likes to receive his massages and relax. It is so great that Guide Dogs for the Blind understands that a dog is not just a guiding tool. You understand that having a dog to love and care for makes a person very happy. Thank you for realizing that the K9 Buddy program is so beneficial to people who are blind who may no longer need a guide dog. What GDB has done for me is priceless. I am a complete person again. Thank you Guide Dogs for the Blind for the great gift of Bill."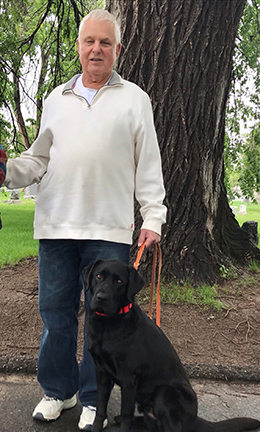 ---
Listen to an interview with Steve and K9 Buddy Program Manager, Kelsey Gilbert, on GDB's podcast, Central Bark.