Kim Kilpatrick knows how to tell a good story. From folktales to epic material, historical stories to literary pieces, her descriptive narratives engage everyone from young school children to retirees and theatre audiences. She is most recognized for her autobiographical works and recently wrapped up a 23-night performance in Calgary, Alberta.
The month-long show required Kim and her guide dog Ginger to fly from their home in Ontario and navigate a new city together. "Ginger took no time to find our apartment door, the elevator doors and buttons, the building door, relief area, etc," says Kim. The apartment was a 10-block walk from the theatre. Once the show's director accompanied them a few times, Ginger had the route down. "She was so good and learned so fast."
The fully accessible performance is a collaboration that showcases Kim's storytelling capabilities and her friend Karen Bailey's talents as a painter. The show is directed by Bronwyn Steinberg. Audio descriptions are seamlessly incorporated throughout the show describing Karen's paintings which are projected on a large screen behind Kim on stage. Original score music by Angela Schleihauf plays between story segments, setting the mood for each storytelling vignette.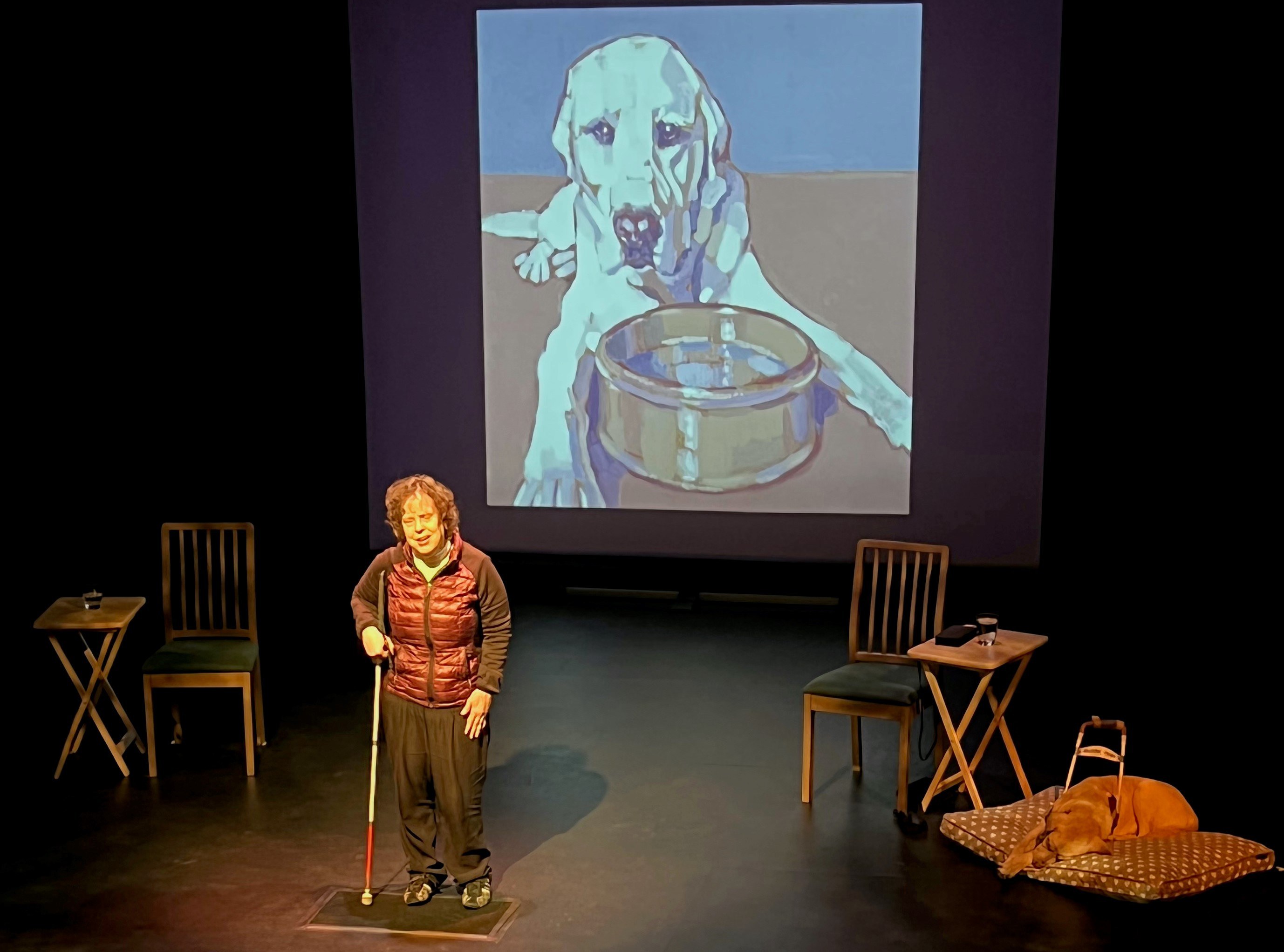 Kim's friendship and collaborative work with Karen began after she and her then-guide dog Tulia sat for a portrait Karen wanted to paint of them. Kim even incorporates this lived experience into the beginning of the show telling the audience: "I'm sure you're all wondering why in the world would a totally blind storyteller and a fully sighted visual artist want to collaborate on an art project?" She goes on to explain that once she and Tulia were sitting in Karen's studio and began chatting while Karen worked, she realized how much in common they had as artists and as women. "We both shape our life experiences into art using imaginative words or colorful paint, take hours to get it just right and share it with others."
The show opens with Kim standing on stage while her yellow Lab Ginger rests nearby on her dog bed. A projected portrait on a screen of Kim, her previous guide dog Tulia, a black Lab, Karen and Stanley, a yellow Lab puppy Karen raised for Canadian Guide Dogs for the Blind appears behind Kim. The painting fades, the theatre lights dim, and the show begins. Kim's melodic voice penetrates the darkness bringing the audience into her world, beginning with how she experienced life as a child who was born blind.
"My first memories of the world are of sound. My dad's firm confident footsteps; my mom's clicky high heels, my brother's bounding running feet. I knew where I was by what was under my feet: the soft lawn in the yard, the driveway sloping up toward the front door, or by what I heard: "the rustling of leaves, the sound of the refrigerator, and by what I smelled: "flowers by the door, baking cookies, and the soap in the bathroom."
As snippets of Kim's life unfold through her light touch, sense of humor, and vivid detail, she shares her experiences that led her to consider the guide dog lifestyle. "Getting a guide dog is more complicated than you might think. People often believe we get our dogs from a local blindness organization. The dog arrives, we work with them, and all is well. Or maybe nowadays we get them from Amazon," she quips. The line draws a collective laugh from the audience.
Kim's rich descriptive storytelling entertains and informs her audience. She recalls a time when a Guide Dog Mobility Instructor visited her home to assess whether she was ready for a guide dog. She explains how she walked a route with her white cane while the instructor followed to make sure she knew how to cross a street safely, find her house, the bus stop, or workplace. "Contrary to popular belief, guide dogs can't read," says Kim. "Shocking, I know." Once she has the audience's undivided attention, she incorporates a teachable moment: "A guide dog's job is to take a person around obstacles and stop for steps and curbs. You're there to direct and praise. It's a real team effort."
As Kim dives further into her lived experiences, she describes how she came to GDB's campus to meet and train with various guide dogs through the years. She humorously talks about walking with her first guide dog Gwenny, a black Lab. "I wasn't prepared for the powerful forward surge that made me feel like I'd been shot out of a cannon," Kim explains. "But after several days of hard work, it felt more natural like I was floating, that we were moving in unison, or that I was driving a very cool sports car," she laughs.
When the two returned to Canada after graduating from guide dog school, Kim recalls one embarrassing moment when Gwenny grabbed a plush dog toy from a pet store (unbeknownst to Kim) and walked home with it in her mouth. "Oh no!" cried Kim. "My perfect guide dog was a kleptomaniac!"
Later, during one poignant moment, Kim recalls how one of her guide dogs performed an act of "intelligent disobedience" when she gave the command to move forward to cross a street. Her dog's refusal saved her life as a car whizzed by where they would have gone. The audience sighs a collective gasp.
Throughout the performance, Kim's story vignettes captivate and delight the audience. "We bust a few myths. It's humorous. It's sad," explains Kim. "I want people to be touched by the show and leave with a new understanding. I hope they say, 'that was really interesting.'"
As for her current guide dog Ginger, Kim she says she's a real pro on stage. "At the beginning of the play, she would guide me onstage to my chair so I could put my hand on its back. Then she would go to her bed when she knew I was safe. It was so cute. Toward the end of the show, Ginger started to know the music cues and when to get up to guide me to center stage. She would do that and sometimes do a huge bow right at the end."
Kim marvels at how GDB has always provided her with great guide dogs and says Ginger is no exception. "I asked for a dog with high initiative, that is easy to handle and will settle on stage. That is what my guide dog is. She is meticulous in her job. I'm so grateful she was chosen for me."
When Kim's not on the road performing, she enjoys being an artist for MASC, a nonprofit offering schools and communities' arts experiences. She recently received a grant to help create an art project with a visual artist who is non-verbal. And she is working on several disability arts workshops while gathering material for a new show about advocacy. She also has a contract to help with a braille study for the Centre for Equitable Library Access, a Canadian nonprofit. "So, Ginger and I will be going to a lot of new places and having new work experiences." Kim says she has no concerns about Ginger's ability to handle anything. "She is one of the most amazing dogs I have ever met."