Hello everybody! My name is Kadi and I am a Canine Welfare and Training Technician (CWTT) at Guide Dogs for the Blind (GDB). I have been working at the Oregon campus since February of 2019. I graduated from Oregon State University with a Bachelor of Science where I majored in biology and minored in chemistry. I've always been a crazy animal person and it was always my goal to work with animals. Currently, I have 2 ½ horses (expecting a foal in April), two cats, and a dog. In my spare time, I love traveling and adventures that get your heart pumping. I've been to 16 countries, been bungee jumping three times, skydiving twice, parasailing, paragliding, and have swum with dolphins. I can't wait to get back out in the world once it is safe to do so.
You may be wondering how I ended up at GDB instead of in a lab. Well, I was backpacking around Western Europe and applying to jobs when I returned home. I was looking at jobs around my hometown of Boring, OR and that's when GDB popped up. It still amazes me that I grew up in this small town and never knew the organization existed. As some like to say, it's Boring's best-kept secret.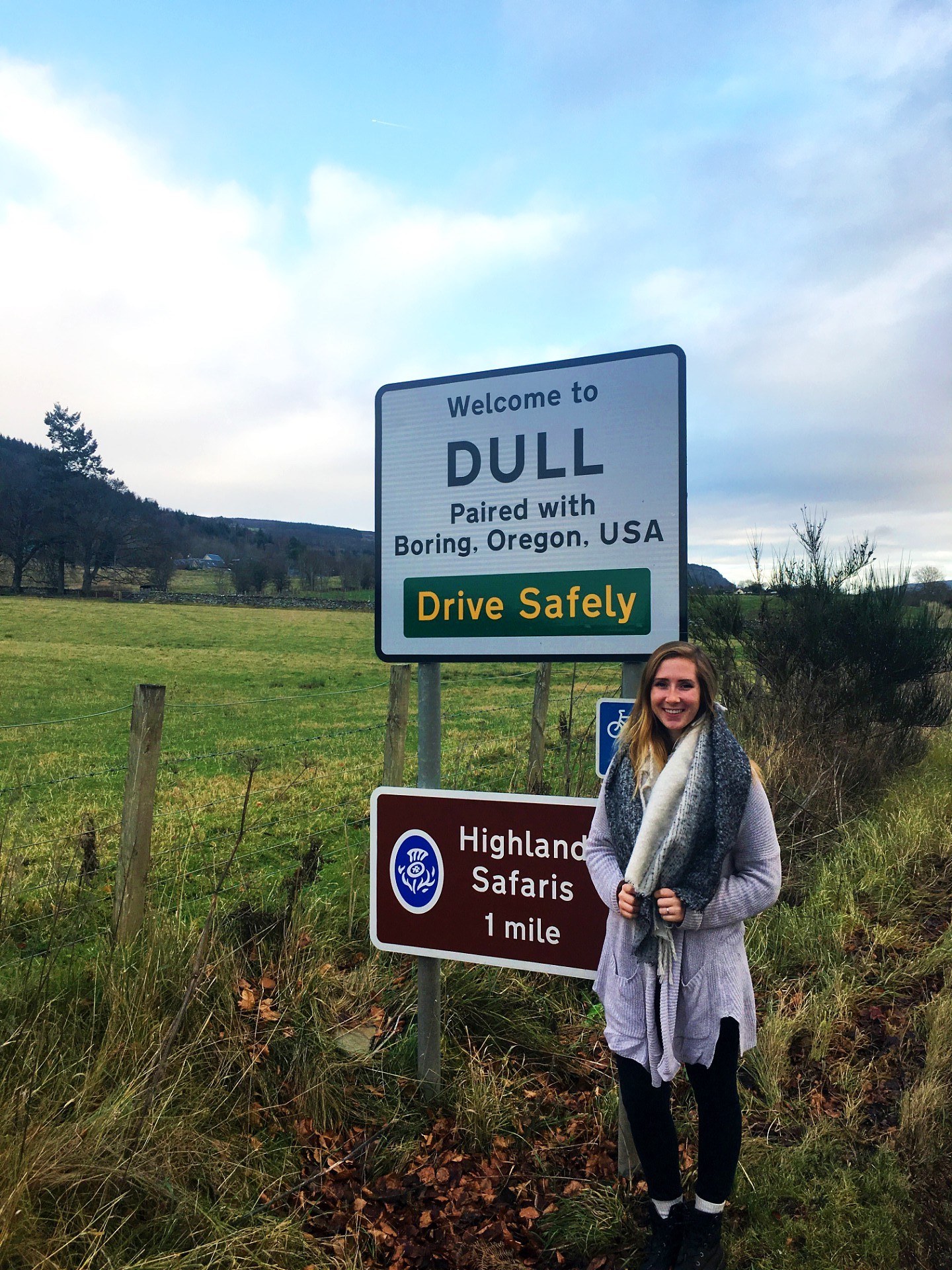 Fun fact, Boring is a sister town to Dull, Scotland. And yes, while in Europe I of course made the trip out to Dull to see it for myself. It is much smaller. Boring has a population of about seven thousand people. Dull has around 85 people.
Back to the point. I decided to apply to GDB as a "fun option". Who wouldn't want to work with dogs? Luckily for me, it turned out to be much more than that. I went into the interview honestly not knowing what I was getting myself into. I hadn't even seen Pick of the Litter at that point. I talked with some great people, saw the campus, and learned about the history and mission, and knew it was the place for me.
As a CWTT my job is to ensure that the dogs are medically being taken care of as well as mentally and physically enriched. We do all the basic husbandry of cleaning the kennels inside and out, feeding, and ensuring medications are given. We perform physical checks on all the dogs at least once a week and if we notice anything, they promptly get checked by the vet. CWTT's are also responsible for any dogs that come in for a medical procedure where follow up care and rehabilitation are needed.
During the day, any dogs that don't go out for training, dogs in for breeding evaluation, and career changes are ours to work with. We play with them one-on-one, supervise dog playgroups, and take them all on walks. We also train the career change dogs so they have a solid foundation before going home or to another program.
Overall, we try to be the first to notice if any dogs are having medical or behavioral problems. If problems do arise, we work with the vet team and instructors to come up with a personalized plan for that dog.
I always tell people I have the best job because I get paid to cuddle and play with dogs. But there is a little more to it and I can't wait to show you!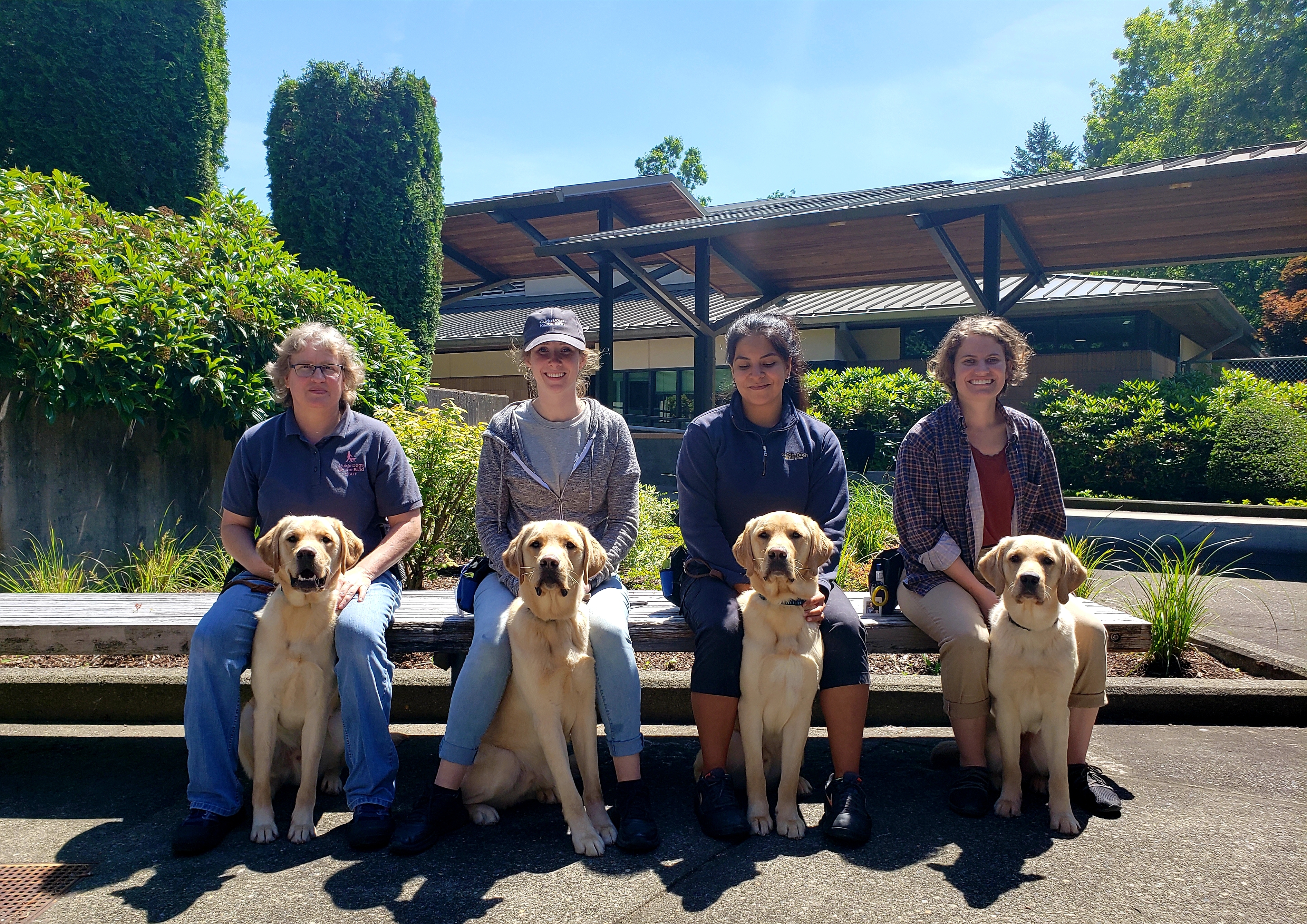 ---
Kadi will be taking over our GDB Social Media accounts on Friday, November 20, 2020. See more of what her days look like and get behind the scenes access to a day in the life of a CWTT at Guide Dogs for the Blind. Be sure to follow us on Facebook, Instagram, and Twitter to tune in!