After more than a year, GDB is thrilled our puppy trucks are back in gear and transporting puppies to and from volunteer raisers throughout ten western states. During our first puppy truck delivery in mid-June, Colorado resident Wendy Davis was thrilled to receive her new charge. "Seeing the puppy truck roll up was so exciting, especially after all the challenges due to COVID. It's an indication of how our GDB community has persevered and come out the other side."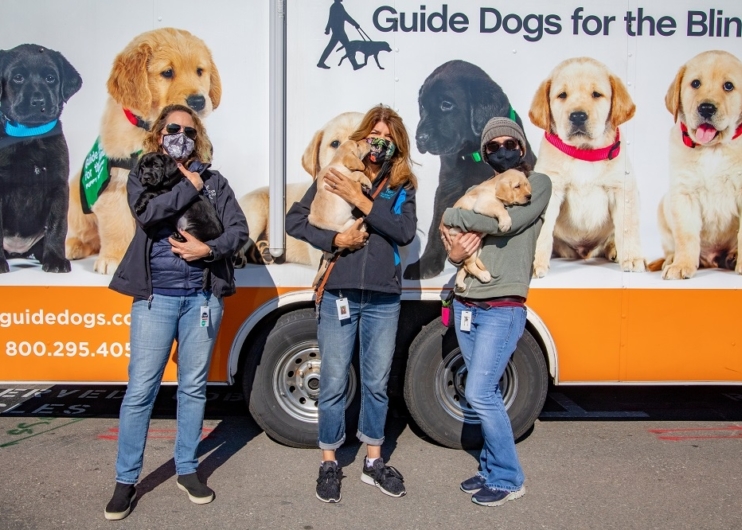 The custom 45-foot-long, air-conditioned puppy truck is designed for maximum comfort and can carry up to 24 puppies in a calm, comfortable environment. The truck also brings adolescent dogs back to campus when they are ready to start their formal guide dog training.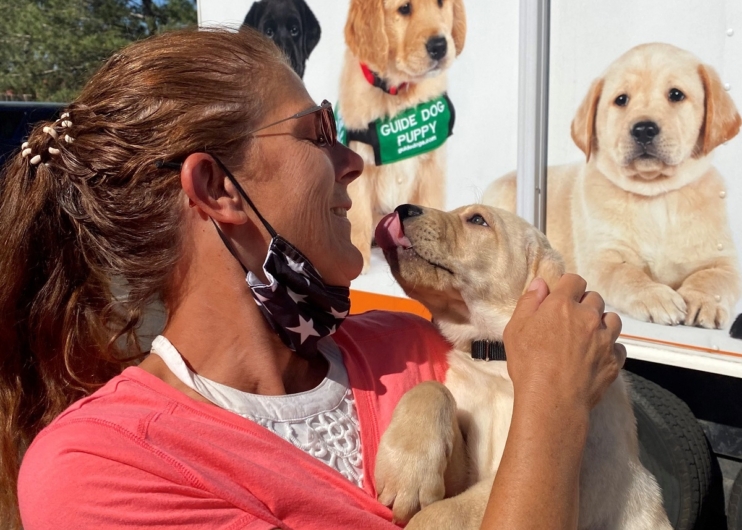 This latest pup is Wendy's fifth puppy that she and her husband will raise. The couple's children helped out with the previous puppies, but they're off to college now. "Holding this puppy for the first time was the best feeling. I am so glad to be part of this amazing organization."
Wendy was thrilled when her children got involved with GDB to fulfill their community service hours for their International Baccalaureate program and national Honor Society in high school. "For me, it was a way to combine my love for puppies with an amazing purpose and an important for my children to learn about charitable giving and giving back."

Two of the puppies Wendy's family has raised went on become guide dogs and one became a K9 Buddy. She says consistency in training is key. "It's hard work, but it's so rewarding. Just knowing we are part of a larger community is so inspiring."
Wendy credits the support she's received from her puppy club leaders, other members and GDB staff. "You're appreciated and supported by your club leaders, fellow members and GDB staff who are so skilled at training the dogs. Everyone is phenomenal."
To see the puppy truck off on its journey, our good friends at KTVU Fox 2 joined us as we wished safe travels to the 12 future canine heroes on board. Enjoy the clip from the station's news broadcast below. The video clip from a news broadcast includes an interview with President & CEO, Christine Benninger holding a yellow Lab puppy, footage of 8-week-old Labs and Golden Retrievers being loaded into the puppy truck by GDB staff and clips of the puppies playing and clients traveling their guide dogs.