When GDB breeder custodian, Donna Hendrix, brought Gift into her home, she didn't expect that Gift would be stepping into the role of mother less than a month later.
As Gift was settling into her new home with the Hendrix family, another dog gave birth to a litter of pups in the Puppy Center, welcoming seven beautiful Labradors into the GDB family: the H-Litter (all puppies have names starting with the letter H). But shortly after this litter was born, their mother developed mastitis, which is an infection of the mammary tissues, and for the health of the mother as well as the puppies, it was decided that she should be moved to another area of the Puppy Center to give her time and space to heal under the care of our veterinary team.
The health and well-being of our dogs are always at the forefront of our priorities when making decisions about treatment and placement of our dogs. The maternity ward in our new Puppy Center is designed to allow around-the-clock supervision and monitoring of both the litter and the mother, along with state-of-the-art equipment and access to on-demand care. With low walls connecting adjoining spaces and secure outdoor runs, new moms are given the freedom to get plenty of exercise, and areas to take a little extra time to themselves when they need it. Regular and early interactions with our canine neonatal welfare technicians and members of our veterinary team ensure that puppies begin their socialization process early while still allowing their mother to care for them and nurse them for the first six weeks of their lives. Although we always strive to keep the puppies with their mothers until they're weaned, it may not always be in the best interest of the mother to do so, and our staff may step in to bottle feed or provide extra care for the litter.
This is where Gift enters the story.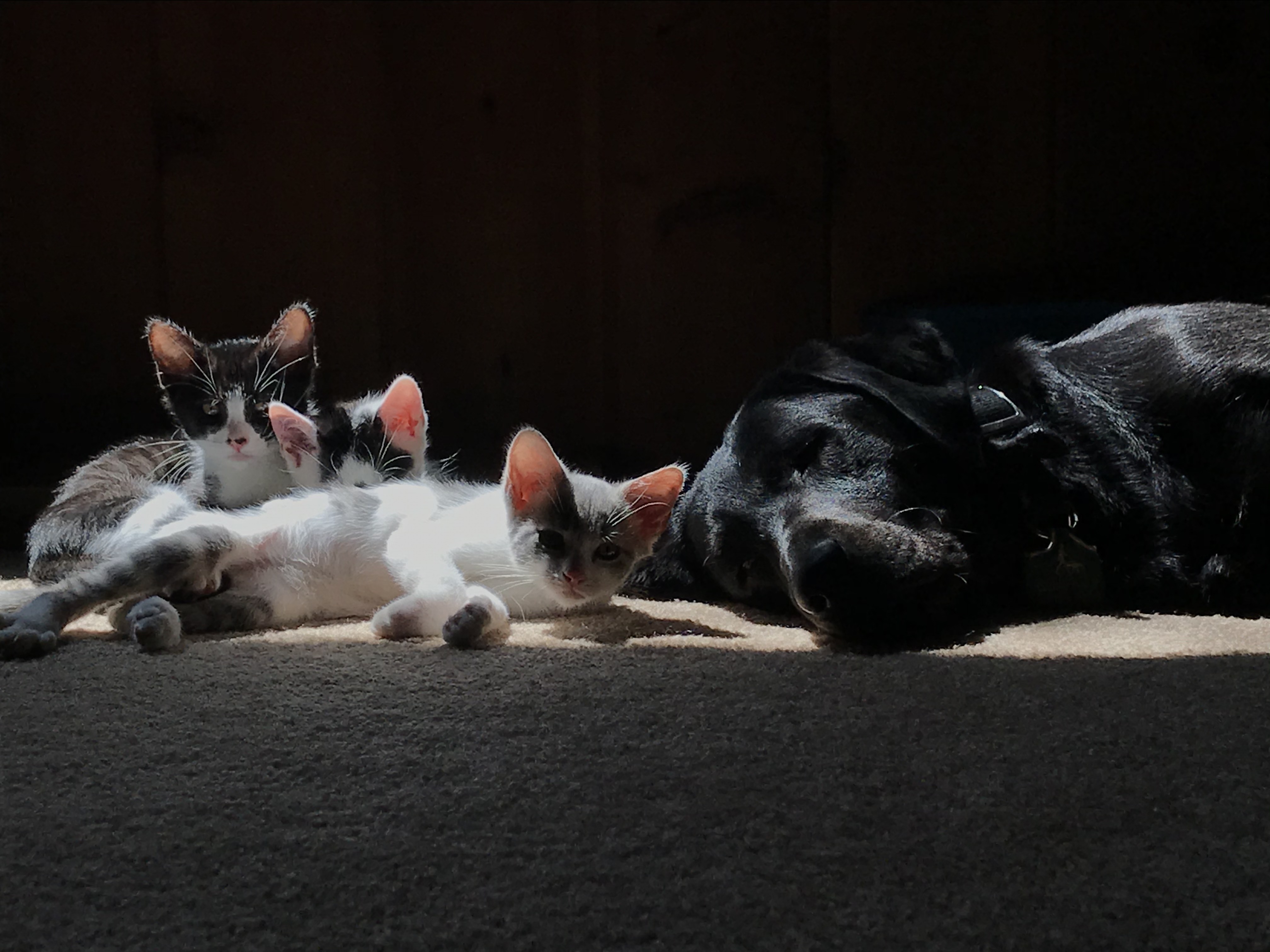 As the H-Litter got older and were taking well to being bottle-fed, our team wanted to ensure that they had the best possible start to life, with the socialization and behavior modeling that only a canine mother can provide. Gift is a new GDB breeder who was raised in a home where her puppy raiser, Mary Clarke, also fostered kittens for a local rescue organization. Gift had a knack with those kittens, and would snuggle and mentor them as if they were her own. Knowing that she had displayed maternal instincts early on, the Canine Welfare Neonatal (CWN) and Veterinary teams at GDB decided to introduce Gift as a "foster mom" to the H-Litter. After a thorough health screening and sanitary spa treatment to ensure that she could safely enter the Puppy Center's bio-secure environment, Gift was introduced to the H-Litter.
"She was an absolute natural," says CWN Manager Jill Cooney. "She was always supervised with the puppies, but they took to her instantly and she knew exactly what to do as soon as she met them. This is the first time we have brought in a mom who has not yet given birth to her own litter to mentor a litter, so we were putting a lot of trust in Gift's unique instincts, and we are so proud of her."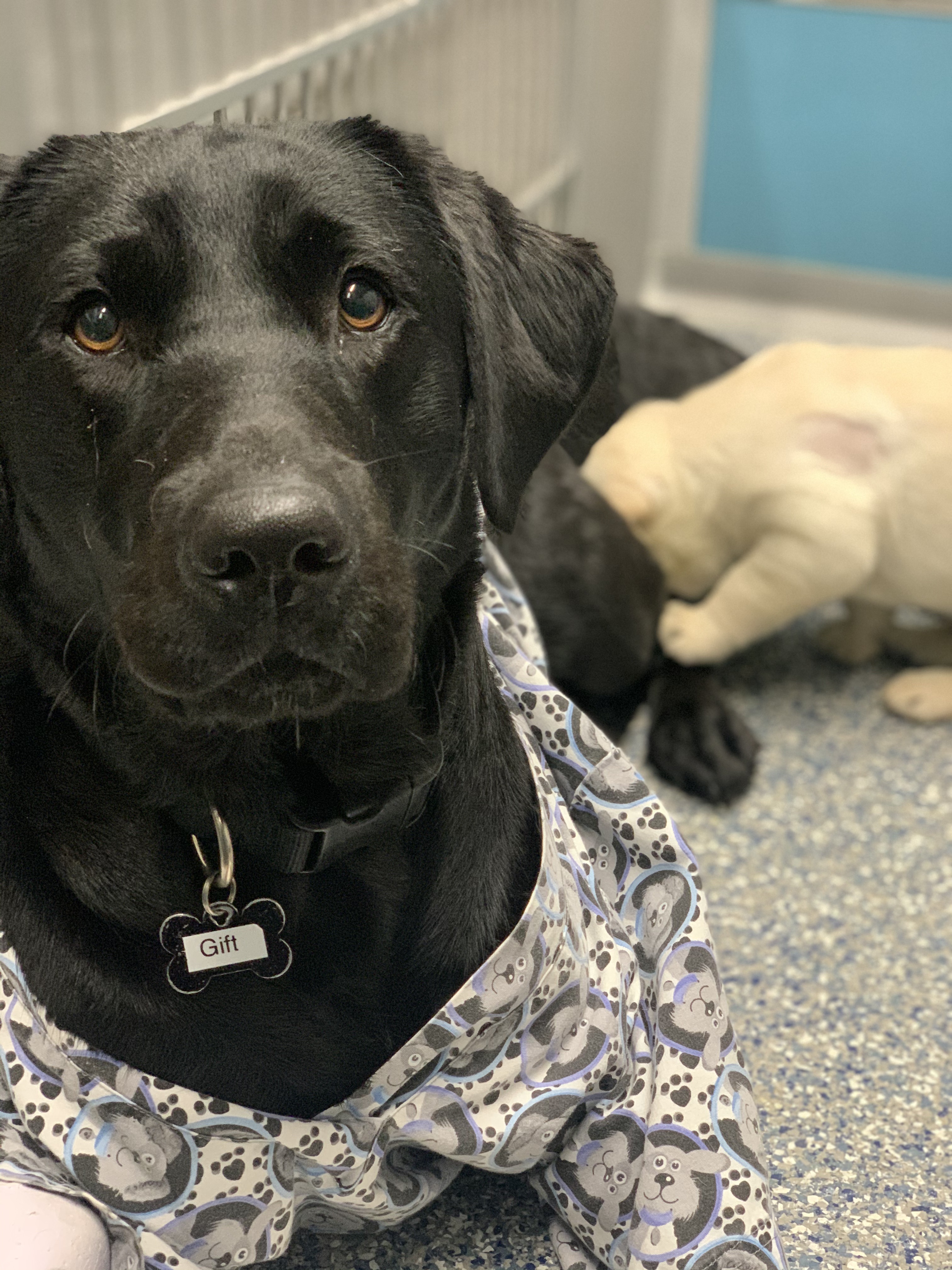 Over the course of a week, the staff in the Puppy Center watched as Gift stepped into the maternal role for this litter. She modeled appropriate play and interactions in a way that only an adult dog can provide. Gift enjoyed all the perks that moms receive in the Puppy Center, including her own secure play area and lots of one-on-one time with staff, but she didn't miss a beat with the H-Litter and enjoyed her time as their stand-in maternal figure.
As the H-Litter prepares to move into their puppy raisers' homes, they will be sent on their way with the love of the entire Puppy Center staff who stepped in to care for them, as well as two wonderful moms that had a paw in their early learning and development.