It's never easy saying goodbye to a guide dog that has retired or passed. Clients are with their guide dogs 24/7 and the bond that develops between them is powerful. Just ask Joan Robinson, whose retired guide dog Tallulah passed away in December last year.

Their remarkable partnership began on our Oregon campus in April 2010. In eight and a half years, Joan and Tallulah had many adventures together, including 20 trips to Europe to attend choral experiences and music festivals. Tallulah was such a world traveler; she had her own European Union Pet Passport and became known as the 'Mozarthund' in Austria because she attended so many concerts and operas.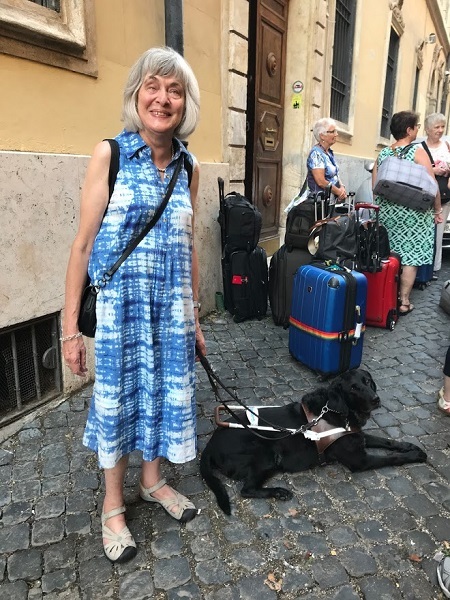 "She transformed my life, but she transformed other people's lives as well," remarks Joan. "She opened up their eyes to how important a guide dog can be. She truly was an ambassador for the guide dog lifestyle." Joan recalls when she and Tallulah attended a concert in Vienna and was approach by the manager who began to tell her she would have to sit somewhere else because he didn't think there was room for Tallulah to sit by Joan's feet. "While he was talking to me, Tallulah curled up under my seat and he understood immediately how adaptable she was."
Joan, who lives in Toronto, Ontario, was born legally blind with some vision, and then lost her remaining vision in her early twenties. She used a white cane for 40 years. It wasn't until she retired from her job as a librarian that she decided to get a guide dog. Joan says Guide Dogs for the Blind's world class training program and ongoing client support convinced her to apply for a guide dog. "Ever since I got Tallulah, I thought 'why didn't I do this sooner?'" explains Joan. "Tallulah literally freed me to travel."
During their first tour to Paris with friends, Tallulah guided Joan through narrow, crowded streets, and around posts meant to restrict parking on the sidewalk. "Tallulah was incredibly adventurous, sassy and bold. It didn't faze her at all," explains Joan.
On another trip to Venice, Tallulah negotiated bridges over the canals as if she had been doing it all her life. They were on and off the vaporetto (a Venetian public waterbus), in a gondola, and in and out of historic locations. "Tallulah gave me the courage to explore and discover and dream of the next destination."
The duo attended the Leipzig Bach Festival three times traveling to Germany every other year starting in 2014. "Tallulah would remember where she had been, the routes to get there, and where we stayed in the hotel. Even our tour leader was impressed that she remembered which room we had stayed in," recalls Joan.
Joan's friend, Elizabeth McLeod, is similarly impressed. She met Joan and Tallulah on a tour to Italy. Over the course of the holiday, she watched Tallulah work and saw her charm servers, hotel staff, and passersby. "The fact that Joan participated in every adventure on the trip is a tribute to Tallulah's skill and the strength of their partnership," says Elizabeth.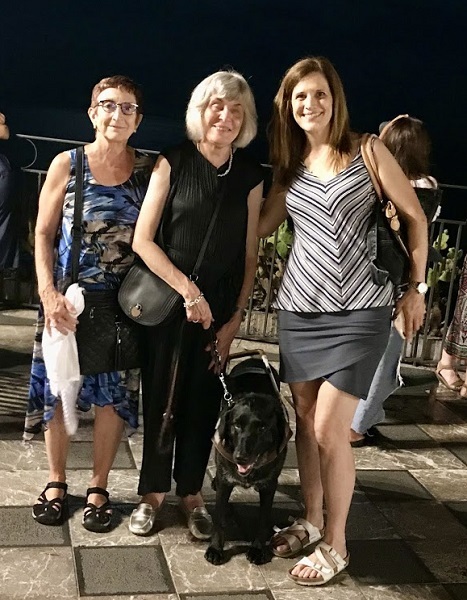 Tallulah often even provided unintentional levity during their adventures. Joan recalls one time when Tallulah had fallen asleep during a concert and began snoring. The people in front of Joan turned around to see who had fallen asleep. "It was hilarious, but also extremely embarrassing." Another time, Tallulah let out a single bark when someone nearby let out a loud sneeze that startled her. "The string quartet didn't miss a beat," says Joan. Their final trip together was a tour around Sicily in the summer of 2018. "We sat in the front seat of the group van so Tallulah could sleep on my lap," Joan recalls. "Nothing was too good for my aging princess."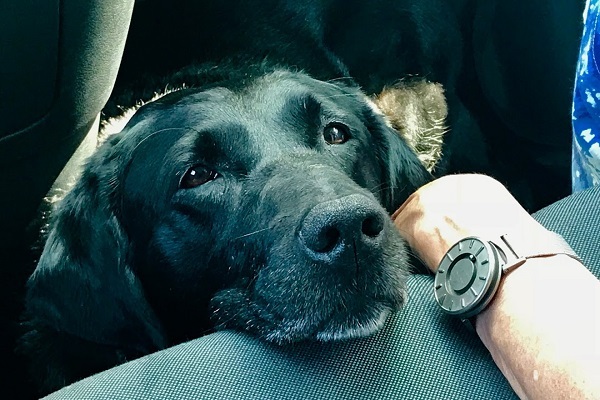 When the time came for Tallulah to retire from her guide dog duties, Joan threw her a retirement party. Forty-five people who Joan had met attending concerts, classes, and trips attended. "They had all fallen in love with her and wanted to celebrate the fact that she had been an important part of our lives and wanted to wish her a happy retirement."
That happy retirement occurred after Joan sought advice from Chuck Farrugia, a GDB field service manager, on how to find Tallulah the perfect retirement home. "He told me to try and create continuity for Tallulah. Music had been one of those things that was ever present in our lives, and I wanted to make sure she could still enjoy that."
In early October 2018, Tallulah became part of the Harris Family – Lucas, Geneviève, and their young daughter, Daphnée – musicians whom Joan had met and seen perform many times in Toronto. For over two years with her new family, Tallulah enjoyed being a lady of leisure. She sniffed as much as she wanted on neighbourhood walks and enjoyed lounging on her favourite sofa. Music continued to be an integral part of her life as Tallulah joined Geneviève for violin practice every morning.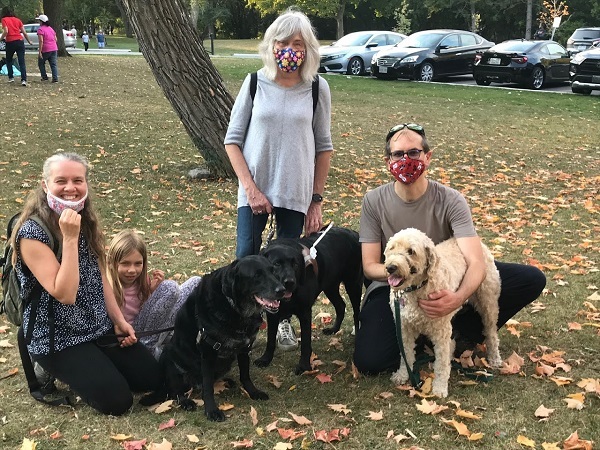 Tallulah passed away early in the evening on December 31st, 2020. Her extended family of Lucas, Geneviève, Daphnée, and Joan were there to comfort her on her way. "We all took the time to tell her how much we loved her and stroked her and were with her until the end. We grieve her loss but are consoled by many joyous memories," says Joan. "She was intelligent, sassy, loving, and adventurous. I feel so fortunate to have had Tallulah in my life. She transformed my life and brought so much joy to us all."
Today, Joan shares her life with Forester, who has been her guide dog since 2018. Coincidentally, Forester was raised by GDB Board Chair and Puppy Raiser Diana McQuarrie. The two met at Joan and Forester's graduation ceremony. 0Joan and her sister Mary Sue had been donating to GDB through a family fund, but Joan wanted to do more to give back to an organization that had done so much for her. In February 2019, Diana asked Joan to consider joining GDB's board. "My answer was absolutely yes! I was thrilled and continue to be thrilled to help represent Canada," says Joan.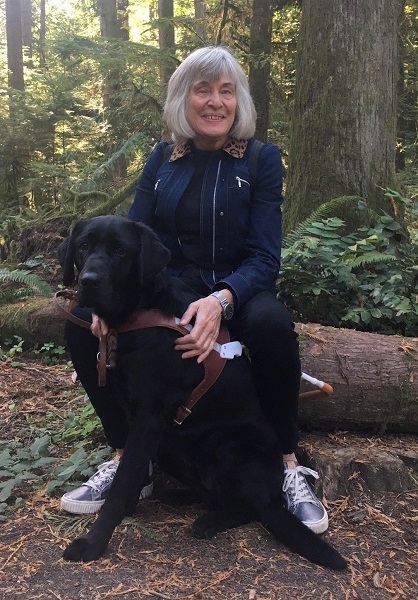 You can help create more life-changing partnerships like Joan and Tallulah/Forester by making a donation today!

Click here to make a donation if you live in the U.S.
Click here to make a donation if you live in Canada.