Guide Dog Program
Is a guide dog right for you? If you are considering the guide dog lifestyle, you've come to the right place to learn more!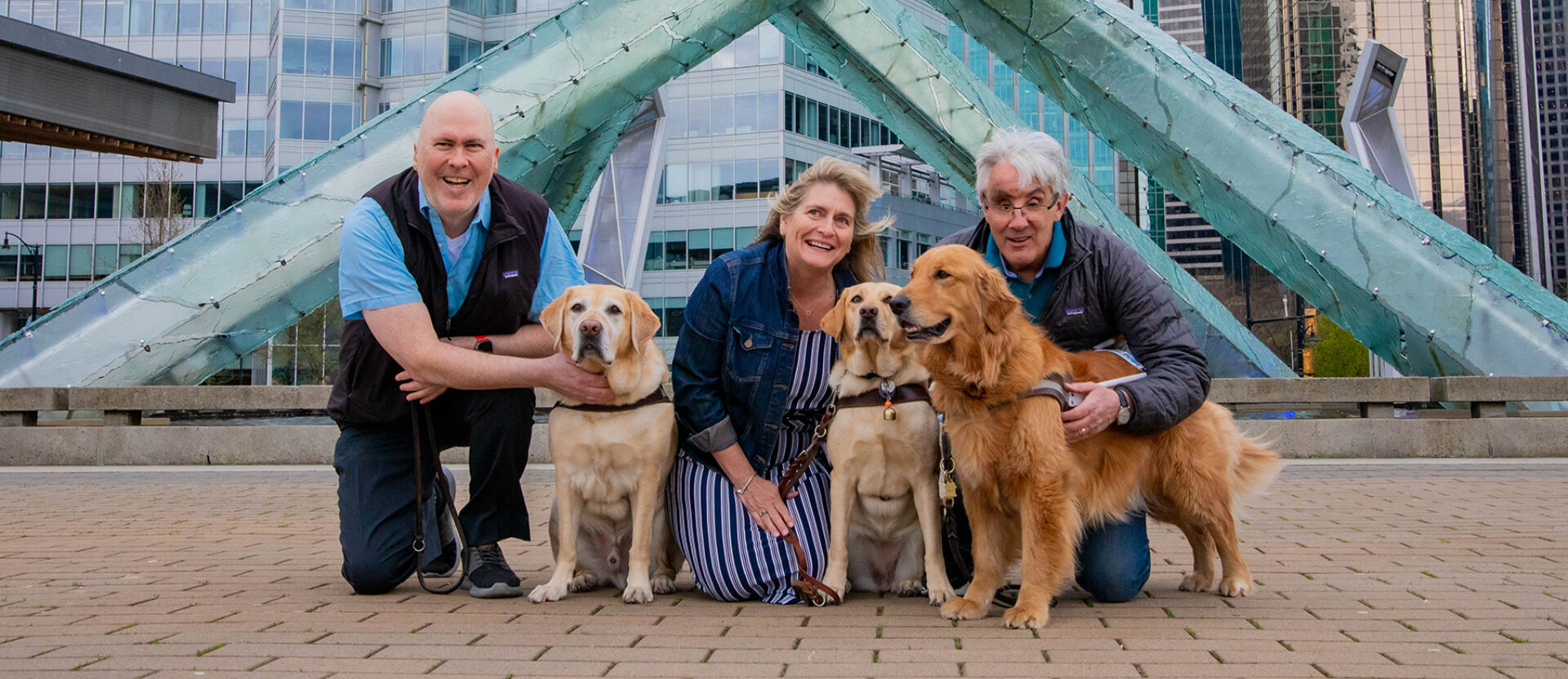 Why get a guide dog?
Guide dogs are far more than excellent mobility aids: they provide companionship, enhance confidence and independence, and further inclusion.
Choosing to live the guide dog lifestyle is a big decision, so finding the right partner to help you along the way is critical. Guide Dogs for the Blind (GDB) is dedicated to the success of our guide dog clients before, during, and long after the time you spend with us in class. No matter whether you're attending class on the Oregon or California campus, we are committed to ensuring your experience exceeds your expectations. Here's what you can expect:

All services are provided at no cost — this includes your guide dog, transportation to and from one of our campuses in California or Oregon, instruction, equipment, and more.
Our classes are two weeks long, minimizing disruption to your personal and professional commitments.
We provide highly customized instruction; classes generally have 6-8 students and the ratio of students to instructors is 2:1.
During your stay with us, you will enjoy a private hotel-style room. Our beautiful student residences have libraries, music, computer, and exercise rooms, and all meals are lovingly prepared by our kitchen staff. We also have a full-time nursing staff ensuring that our clients stay healthy while in class.
Guide Dogs for the Blind provides our alumni with a lifetime of support. You will become part of a world-class Alumni Association and also receive the following benefits: financial assistance for veterinary care, as needed; in-person follow-up visits; access to a dedicated support center; and when the time comes for your guide dog to retire, we can discuss the potential for a successor dog.
There are no age requirements for our Guide Dog Program. However, since it takes a level of maturity, discipline, and commitment to work with a guide dog, the majority of our guide dog clients are 18 and older.
Guide Dog Program Details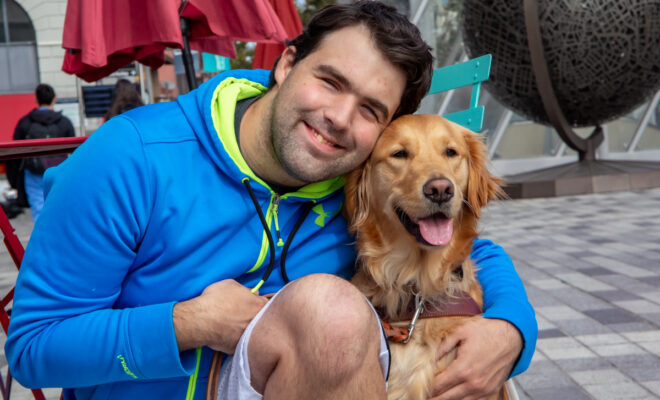 Read through our self-screening assessment questions to help determine if you're ready for a guide dog.
Guide Dog Self Screening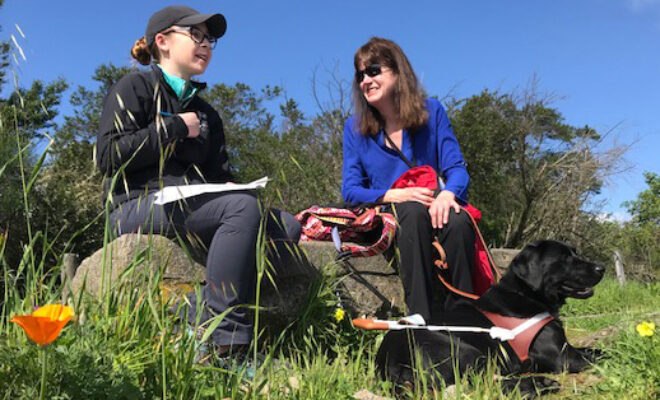 Guide Dog Program Application and Admissions Process
When you apply to get a guide dog from Guide Dogs for the Blind, you're taking a big step. Throughout the admissions process, we'll have a chance to learn more about you: your goals, desires, and lifestyle. We'll help you understand your responsibilities in preparing for class training and in handling and caring for a guide dog. Upon acceptance, our professional staff will work with you to develop a course of training that is most relevant to your needs. The steps to our application and admissions process are outlined below.
We're here every step of the application process to help, so please feel free to reach out should you have any questions or concerns.
Need Assistance?
Call our Admissions Department at
800.295.4050
You have three options for applying for our Guide Dog Program:

Complete the guide dog program application online.
Download and print a copy of the application to submit to us by mail (link to form below). Printed copies of the application can also be requested by calling 800.295.4050.
Complete the application over the phone by calling 800.295.4050.
We will schedule a phone consultation with you after we receive and review your application. This discussion can take about an hour. During the phone consultation, we'll discuss:

How you travel independently to the destinations listed on your application.
Your motivation and support for getting a guide dog.
Your lifestyle and travel practices.
Your health status.
You will also have the opportunity to ask questions about Guide Dogs for the Blind's programs. By the end of the conversation you will have an idea of what supplemental forms are required and how to go about gathering the information necessary to complete the them.
Physician's Report: to be completed by your primary health care physician including a tuberculosis test or chest X-ray.
Ophthalmologist's Report (required for all first-time applicants).
Orientation and Mobility Professional's Report (required if you have received orientation & mobility training in the past five years).
Mental Health Report (required if you currently see a psychiatrist, psychologist, or other licensed counselor).
Links for these forms and documents are available below.
Mail printed materials to: Guide Dogs for the Blind Admissions, PO Box 151200 San Rafael, CA 94915.
Note: If you have experience with other guide dog schools, Guide Dogs for the Blind will likely contact them for additional information.
We will schedule a home visit with you once your phone consultation has been completed. During the home visit the interviewer will assess:
Your ability to travel independently on a familiar route using your current mobility aid. This route must include street crossings.
Your physical ability to work with a guide dog.
The safety of your home and work environments.
Your ability and willingness to learn and apply techniques for working and caring for a guide dog.
Any additional factors that would contribute to selecting the best dog for you.
When your home visit has been completed and all supplemental forms and documents have been received, we will notify you of your application status.

Upon acceptance, we will contact you to schedule a class date and campus location. An acceptance package and course materials will be sent to you by mail. Click here to learn more about our guide dog class experience, and watch our GDB Campus Life video on YouTube to learn what it's like while you are here.
You arrive for class ready to meet your new canine partner and begin an exciting educational experience!
Guide Dog Program application and supplemental forms/documents available to download.
Mail printed materials to: Guide Dogs for the Blind Admissions, PO Box 151200 San Rafael, CA 94915.