Alumni Board
Marcia Wick and Viviane
Colorado
Marcia is enjoying retirement, exploring new routes and traveling with Viviane, her first guide dog. She volunteers with the Colorado Springs Community Transit Coalition and VIBeS (the Visually Impaired and Blind Skiers of Colorado Springs), in addition to serving on the GDB Alumni Association Board. Marcia and her husband enjoy skiing, swimming, tandem biking, hiking, and traveling.
Marcia holds a B.A. in journalism from the University of Northern Colorado. She enjoyed a long career in news reporting, corporate communications, public relations, and advertising; experiencing contrasting cultures from the mountains of Colorado to rural upstate New York and urban northern California. She also owned and operated a desktop publishing business serving clients in California and Colorado. Most recently, Marcia worked as an administrative assistant to the principals of a large public high school in Colorado Springs.
Getting back to her writing roots in retirement, she is now launching a freelance writing career in partnership with her sister as The Write Sisters. Marcia has two grown daughters and one grandson (so far).
Amy Salger and Marsala
Iowa
Amy Salger lives in her hometown of Vinton, Iowa with her husband, Matthew, their two sons, Gavin and Reagan, and her first guide dog, Marsala, a black Labrador Retriever.
As a Certified Alcohol and Drug Counselor, Amy currently works primarily with adolescents and youth as a substance abuse counselor. She holds a Master's Degree from the University of Northern Iowa in Clinical Psychology and Bachelors of Arts Degrees from Coe College in Elementary Education and Psychology.
Active in her community, Amy volunteers at her sons' schools; is a member and past President of TTT, an organization committed to providing girls with the opportunity to attend camp; and has been involved for over 12 years with PEO, an organization that promotes the education and growth of women. As a member of Trinity Lutheran Church, Amy serves on the Board of Directors and as the Chairman of the Christian Education Board. Amy and her husband are part of the Guide Dogs for the Blind Legacy Society. She frequently gives talks to area schools and community organizations about the guide dog lifestyle.
Amy's greatest enjoyment in life is spending time with her family and friends. She also enjoys reading, shopping and traveling.
Deanna Lewis and Mambo
Ohio
Deanna is currently working with her second guide dog, yellow Labrador retriever Mambo. She works for Clovernook Center for the Blind and Visually Impaired, a local blindness agency/Braille Print House, as a Receptionist and has recently started her own pet-sitting business. Deanna is a Licensed Massage Therapist, working for chiropractors, clinics, and spas for over a decade. Her previous guide dog, Pascal, acted as the honorary office mascot.
Deanna is committed to volunteering and has served as President of the Ohio Association of Guide Dog Users since 2010. She is actively involved with GDB's Alumni Chapters as a co-founder and past President of the Guide Dogs Handlers of the Midwest and Secretary for Guide Dog Handlers All Ways. She has held a range of Board leadership positions with both the National Federation of the Blind (NFB) of Ohio and the NFB Cincinnati Chapter. Deanna also volunteers with a local animal rescue and acts as a role model and mentor for blind youth.
Deanna enjoys reading, writing, walking on nature trails, cooking, and quilting by hand. Her current specialty is making quilts for newborns.
Deanna is passionate about guide dogs and GDB: "Traveling with a cane will get you places; but traveling with a guide dog makes the journey fun!"
Members at Large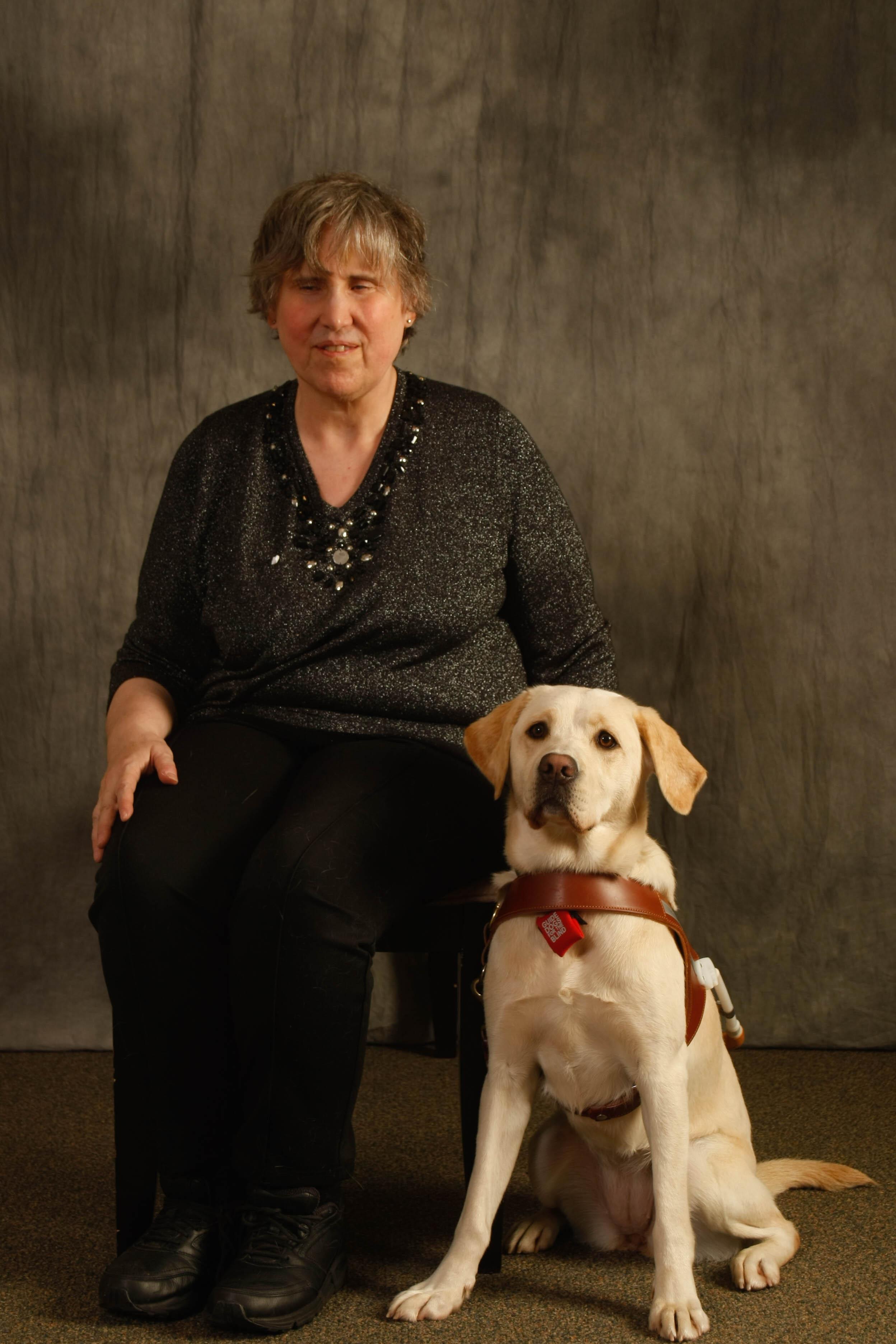 Deborah Cook and Praline
Washington
Throughout her working life, Deb has served the Blind and Visually Impaired. From direct training and services to technology and accessibility needs, Deb has worked tirelessly to help people with visual and hearing impairments improve their lives through access and independence.
Deb's mission has always been to serve. Throughout her adult life, she has volunteered and been active in state and federal organizations and agencies that serve the Blind and Visually Impaired. Over 37 years, Deb has taken on the roles of Rehabilitation Teacher, Vocational Rehabilitation Counselor, Civil Rights advocate, It and assistive technology administrator.
One of Deb's motivations to serve on the Alumni Board is to improve the availability of Guide Dogs for our aging population of GDB teams.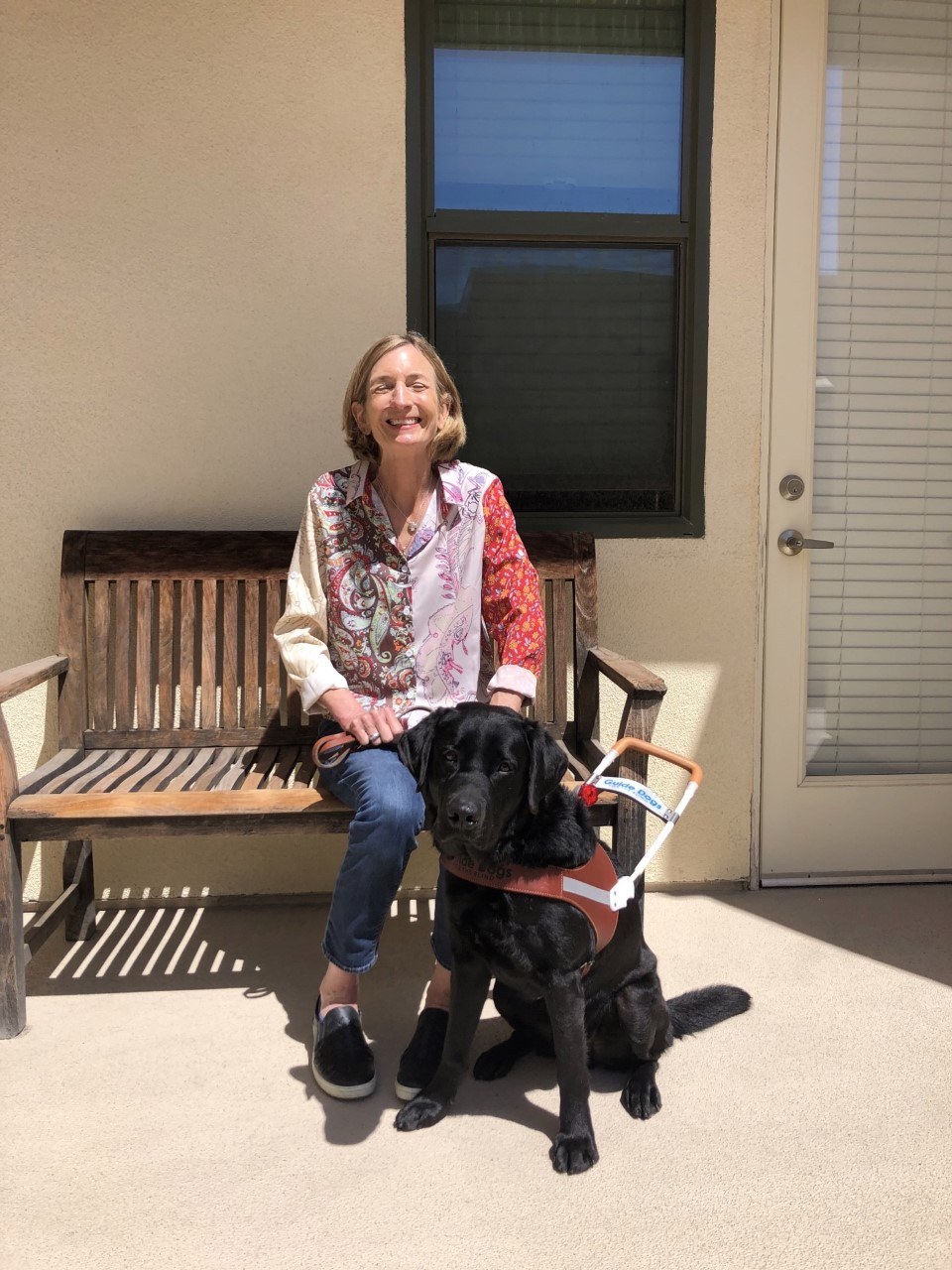 Kelly Egan and Caspian
California
Over the course of her career, Kelly has designed and directed B2B / B2C sales, marketing, and recruiting campaigns, to drive rapid and sustainable growth. She worked to build and lead cross-functional teams and performance initiatives, maximizing productivity and increasing market share for Be My Eyes, Sprint Accessibility, HirePotential, Inc., The Novo Group, Alternative Resources Corporation, and more.
Kelly and Caspian live and work in San Diego, CA.
John (Jack) Heim and Guillermo
Wisconsin
John is a programmer and systems administrator for the Math department at the University of Wisconsin-Madison where he manages a cluster of research computers, web and file servers, and linux desktops. John has B.S. degrees in Math and Computer Science from the University of Wisconsin-Stevens Point
He is co-founder and President of the International Association of Visually Impaired Technologists, a non-profit that promotes employment and career advancement in the field of Information Technology for people who are blind or visually impaired. John is also active in his local NFB chapter - NFB of Dane County Wisconsin. He is past- President of the Madison Central Lions Club.
In his spare time, John likes to spend time with his wife, Judy, and their string of rescued Basset Hounds. He enjoys running and rock climbing and is an avid Green Bay Packers fan.
Jason Mitschele and Kailua
Toronto
Jason Mitschele lives in Toronto, Canada with black lab, Kailua. He has been practicing law as a Federal Prosecutor for the Public Prosecution Service of Canada since 2003.
Committed to equality for all, Jason is a proud advocate for the inclusion of persons with disabilities. He currently serves on the Advisory Board of CNIB Lake Joseph Centre, a fully-accessible recreational lakefront facility. From 2002-2005 Jason served as a member of the International Development Committee of the Counsel of Canadians with Disabilities (CCD), where he advised the organization and the Canadian government on international law in policy. From 2002-2006, Jason served two terms on the board of directors of the National Educational Association of Disabled Students (NEADS).
As a graduate of the Faculty of Law at the University of Toronto, Jason focused his studies on international law and development. Prior to attending law school, Jason completed an internship with Disabled Peoples South Africa where he gained valuable experience working with local and national organizations in shaping human rights law and policy in that country.
Jason's hobbies include cycling, cross-country skiing, and spending time with family and friends. He is planning a trek up Mount Kilimanjaro in 2019 with friends, raising funds for both vision and cancer research.
Dorianne Pollack and Dime
Arizona
Dorianne lives with her husband, guide dog Dime, and retired guide dog Yvette in northern Arizona. She works in the Disability Resources Department at Northern Arizona University where she supports and provides accommodations for students with disabilities.
Previously, Dorianne has worked for the Rehabilitation Services Administration supporting adults with disabilities through their education and into employment. She began her career working in public schools, first as a speech/language therapist in an urban Phoenix school district, then as a classroom teacher. In 1989, she earned the National First Year Teacher Award from Sallie Mae Corporation. Dorianne was a Principal, first in a rural elementary school and then in two alternative middle and high schools. She served on the school board in her community for 9 years, including as President for 8 years.
Dorianne has attended Arizona State University, University of Arizona, and Northern Arizona University. She holds 2 master's degrees with distinction - in curriculum and instruction, and in rehabilitation counseling. She has also completed her doctoral coursework and comprehensive exams.
When she is not working to improve the lives of others and better her community, she spends time with her children and grandchildren, and laughing with friends. She likes to snowshoe in the winter, take long walks with friends in the spring, tandem bicycle in summer, and listen to the leaves crunch under her feet in the fall. For Dorianne, reading and writing are year-round adventures.
Maia Scott and Gleam
California
Maia has been happily partnered with four different guides, each helping her find the way through adventures on foot and in spirit. Maia's fourth Guide Dog, Gleam, works closely by her side.
Maia has a Master's in Fine Arts and interdisciplinary arts. She works as an arts educator, and recreational therapist for children with disabilities. She also works as a bodyworker, college accessible arts instructor, and interdisciplinary artist. Throughout her work and daily life, Maia is committed to social justice, civil rights, equity, and access to creativity.

She combines physical, mental, and social dynamics through her workshops, community events, books, public speaking, and private work. Maia brings a creative spirit, quirky sensibility, love of words, and the desire to push the boundaries of "possible" to the Alumni Association.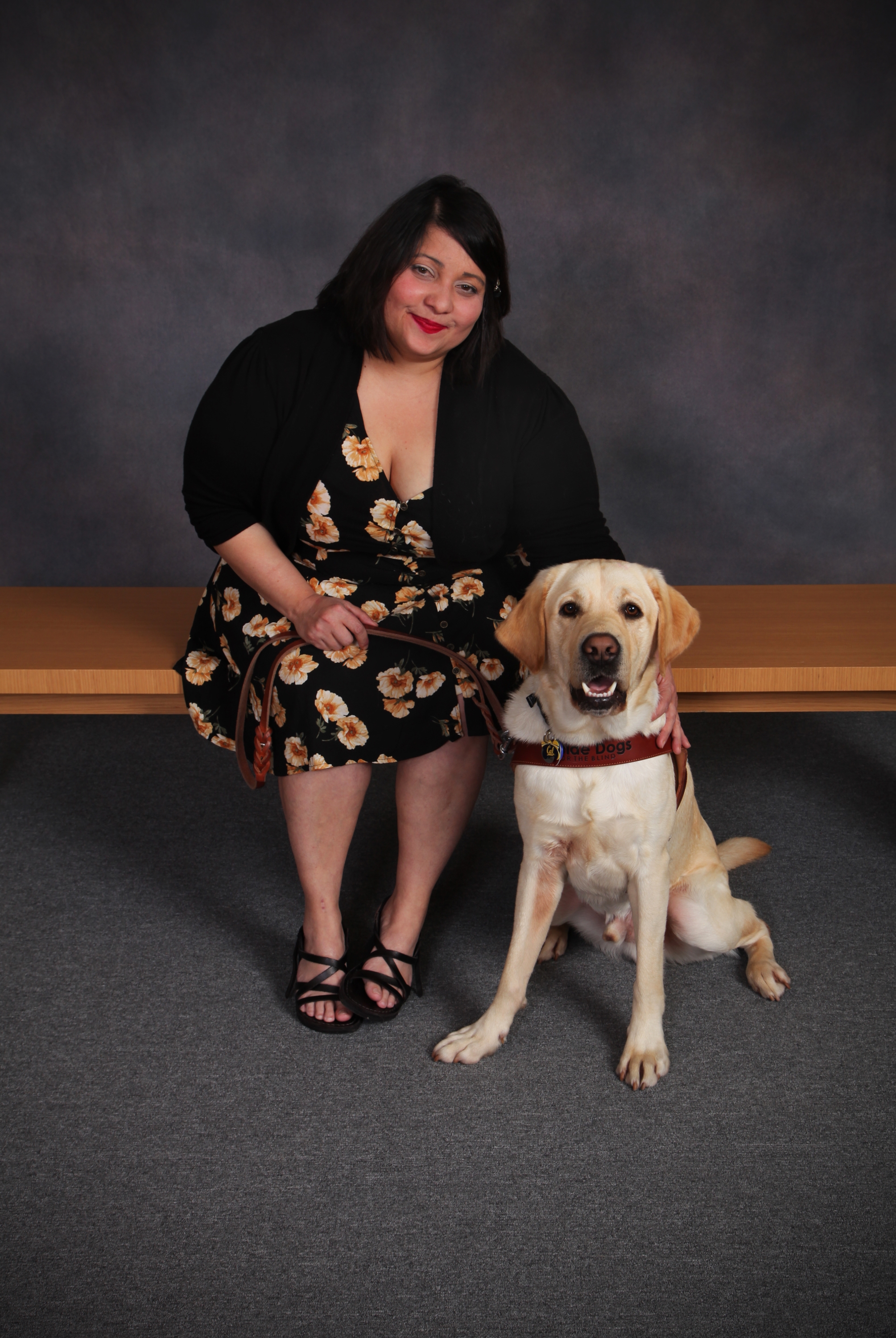 Melba Velez-Ortiz and Chad
Michigan
Melba's professional work is rooted in the intersection of culture, disability, communication, and ethics. She holds her doctorate in philosophy and is an associate professor at Grand Valley State University, Michigan.
A bold and vocal communicator, Melba has created programs surrounding communication and culture, authored books, published articles in peer-reviewed journals, and presented papers at conferences in her field. She steps outside the boundaries to bring philosophy, dialogic inquiry, culture, and ethics across all departments at her university.
Melba is a fierce advocate for the LatinX, Disability, and other marginalized communities and cultures. She identifies herself as "A person who opens doors" for others who work hard to achieve their goals. The enthusiasm she brings to her field and to conversations is uplifting and exciting. You can just about see her, over the phone, jumping up and down.
Driven by a philosophy developed by Jose Vasconcelos called "Happy Pessimism," Melba accepts her blindness. She doesn't expect the best, but she expects to work toward it. For example, Melba was afraid of dogs her entire life. Now, she is working her first guide dog, Chad, a yellow lab - an experience that has changed her life