Christine Benninger
Christine (Chris) joined Guide Dogs for the Blind in April of 2014. Chris brings a wealth of non-profit and for-profit experience to her role. Prior to joining GDB, she spent 17 years leading the Humane Society Silicon Valley. During her tenure there, she and her team's progressive approach helped save the lives of tens of thousands of animals and greatly reduce pet overpopulation problems in Santa Clara County. Under her leadership, the organization was also able to raise $25.5 million to build The Animal Community Center -- the first facility of its kind in the country.
Under Chris' leadership, Guide Dogs for the Blind has expanded its program offerings to include Orientation and Mobility training for individuals with insufficient skills to qualify for guide dog training, a companion dog program for visually-impaired children and advocacy in support of GDB's visually-impaired communities. In addition, annual fundraising has tripled since 2014 and a new state-of-the-art Puppy Center has been built. Current organization-wide initiatives include Diversity, Equity and Inclusion as well as full accessibility throughout GDB and its communication channels. Chris was elected to the IGDF board at the 2021 IGDF Annual General Meeting.
Chris honed her business skills as an auditor with Arthur Andersen & Co. as well as in her 15 years with Hewlett Packard Corporation. At HP, Chris held managerial positions in the U.S. as well as in Europe. She holds an M.B.A. from Stanford University.

Chris loves to ride her bike, hike, and travel. Chris loves dogs and has three of her own: Theia, a career change Golden Retriever, who now serves as an ambassador for GDB as well as Hank, a Basset Hound, and Petey, a Chihuahua.
Sherilyn Dacquisto
Sherilyn (Sheri) Dacquisto joined Guide Dogs for the Blind in 2017 and spent two years as Guide Dogs for the Blind's Controller prior to taking on the role of CFO and Treasurer. She came to GDB from Shamrock Materials in Petaluma where she worked for 17 years in various roles, including SVP of Finance. Sheri's experience also includes nine years with Valley Forge, a $100M publicly traded company operating several recreational marine and other industrial manufacturing subsidiaries in North America including Canada. She started her career at Deloitte & Touche, one of the big four public accounting firms, rising to the position of audit manager in 5 years.
Sheri has a CPA license (inactive) and is a member of the American Institute of CPAs as well as the California Society of CPAs. She has a Bachelor of Science degree in Business Administration from CSU, Sacramento having graduated with honors and dual majors in accounting and management information systems. Sheri most enjoys working collaboratively with other managers to strengthen organizational effectiveness.
Sheri and her husband are Bay Area natives with two adult children. They have 3 dogs; Louie an Aussie mix, Izzy (formerly known as Verbena) a career change black Lab adopted from GDB, and Bandit a miniature Fox Terrier mix.
Vice Presidents
Susan Armstrong
Susan is responsible for the staffing, supervision, and training of personnel in the Training Department on the OR campus, as well as the Veterinary, Nursing, Dormitory Services, and Research and Development Departments. She also shares dual responsibility with the VP of Training Operations CA for personnel within the Client Services Department and ensures that GDB provides a graduate follow-up program that promotes the useful life and effectiveness of each team.
Susan is originally from Wisconsin and spent her childhood training dogs and volunteering at the Humane Society. She has a BS in Biology/Zoology from Portland State University and a Master's degree in Orientation and Mobility from Western Michigan University.
Susan loves to travel and is excited to be an assessor for the International Guide Dog Federation. She is also an avid sports fan, poker player, and student of photography. She lives in Portland, Ore. with her partner and their enthusiastic, photogenic Border Collies.
Tom Horton
Tom has been a member of Guide Dogs for the Blind's Development team for over 20 years. Prior to assuming his current position, he headed the Development Program for seven years, first serving as Interim Director of Development for a year and then Vice President of Philanthropy for over six years. Before holding these positions, he served as Director of Planned Giving for 15 years and built a nationally recognized planned giving program. In his current role, he intends to expand on that success by building out GDB's planned giving program into Canada. Prior to entering the gift planning and fundraising fields, Tom practiced law in the Boston area. He attended Boston College as an undergraduate and attended Boston College Law School and University of Utah College of Law. He is a member of the California, Massachusetts, and Washington Bar Associations and served on the Board of the Northern California Planned Giving Council. He is a past president of the San Francisco Estate Planning Council and was also on the faculty of the UC Berkeley Extension where he taught a course titled "Philanthropy as a Wealth Management Tool." Tom lives in Oakland, Calif. with his wife Michelle and son Matt.
Cami Kahl
Cami Kahl, VP of Community Programs, manages GDB's vast volunteer community. She is responsible for Puppy Raising, Dog Placement, Campus Volunteers, and Canine Community Programs.
After graduating from Sonoma State University, Cami worked for Becoming Independent as a job coach alongside people with developmental disabilities. As a strong advocate and passionate human rights leader, she committed over 21 years working in community-based instruction and independent living programs. In 2013, Cami was selected as the Executive Director of the Sonoma County Volunteer Center where she managed thousands of volunteers ensuring Sonoma County held the title as the largest volunteer base in the state of California. In 2017, during the wildfires, over 15,000 spontaneous volunteers were placed in real-time to shelters and nonprofits that were helping the residents of Sonoma County. This effort remains her greatest professional achievement to date. Prior to joining Guide Dogs for the Blind, she served as the first Chief Operating Officer at Ceres Community Project. Cami is thrilled to join the team and bring together volunteering, independence for people with disabilities, and the canine community.
When away from work she spends time with her family and animals which include chickens, dogs, a cat, and her ever-growing vegetable garden.

Kristin Lucas
Kristin is responsible for the staffing, supervision, and training of personnel in the Training Department on GDB's California campus, as well as the California campus Veterinary and Nursing Departments and GDB's Apprentice Program. She also shares dual responsibility with the VP of Training Operations OR for personnel within the Client Services Department and ensures that GDB provides a graduate follow-up program that promotes the useful life and effectiveness of each team.
Kristin has a BS in Psychobiology with a concentration in Neuroscience from the University of California at Riverside, and always had a strong interest in teaching, coaching, and mentoring as she progressed through college. She holds an MA in Special Education, with a concentration in Orientation and Mobility from San Francisco State University.

Kristin loves to cook for people, grow fruits and veggies, and hike. She lives in Petaluma, Calif., with her wife and daughter and their two dogs.
Cathy Martin
Cathy has over 25 years of experience with financial management, business planning, corporate development and equity and debt financing for Humane Society Silicon Valley as well as many rapidly growing technology-based companies and venture capital firms in Silicon Valley. She also has 13 years of public accounting experience, culminating in partnership status at Coopers & Lybrand (now Pricewaterhouse Coopers), an international accounting firm.

Cathy holds an MBA in Finance from the New York University Stern School of Business along with a BS in Accounting and Quantitative Methods from the University of Oregon.
Cathy gives back to the community through her role on several non-profit boards. She serves on the Board of Merit Partners and spent many years as Chair of the Board of the San Jose Symphony.
Katie Petcavich
Katie brings more than 30 years of human resources experience to her leadership role at Guide Dogs for the Blind. She has enjoyed working in a broad array of industries in the for-profit world ranging from retail to architecture to advertising, as well as in the non-profit sector through her time with the Dominican Sisters of San Rafael.

Katie is responsible for providing overall strategic leadership to Guide Dogs for the Blind's HR initiatives such as recruitment, compensation, benefits, training, and employee relations. She also ensures policies, procedures, and HR programs are consistently administered, aligned with organizational goals, and are in compliance with professional standards, state and federal regulatory requirements, and employment laws.
When not working, Katie enjoys spending time with family and friends, baking, hiking and walking her dog, Chipper.
Theresa Stern
Theresa Stern holds a BA in liberal studies from the University of California at Riverside and a master's degree in special education with an emphasis in blind rehabilitation from San Francisco State University. She has worked in the field of blind rehabilitation for over 20 years, including at the Lighthouse for the Blind in San Francisco as a rehabilitation teacher and director of its Enchanted Hills Camp. To meet the growing need for comprehensive access to technology sales and training, she helped to create AccessAbility Inc., an access tech company and served as the low vision products sales manager.
Theresa began her tenure at Guide Dogs for the Blind in 1999 as the Outreach manager. In this position she traveled extensively around the U.S. and Canada educating people with visual impairments about the unique benefits and responsibilities of living and working with a guide dog. In 2005 she took on the challenge of developing GDB's Alumni Association, the first of its kind for a guide dog school. In her current role, Theresa oversees GDB's Outreach and Admissions Departments. She currently serves as Immediate Past President of the Northern California chapter of the Association for Education and Rehabilitation of the Blind and Visually Impaired. Dedicated to the future development of the blindness profession, Theresa enjoys teaching part-time at San Francisco State University in the Special Education Department.
Theresa has been blind since birth and travels with her guide dog, Wills, who she received in December of 2014. Wills is her fourth guide dog.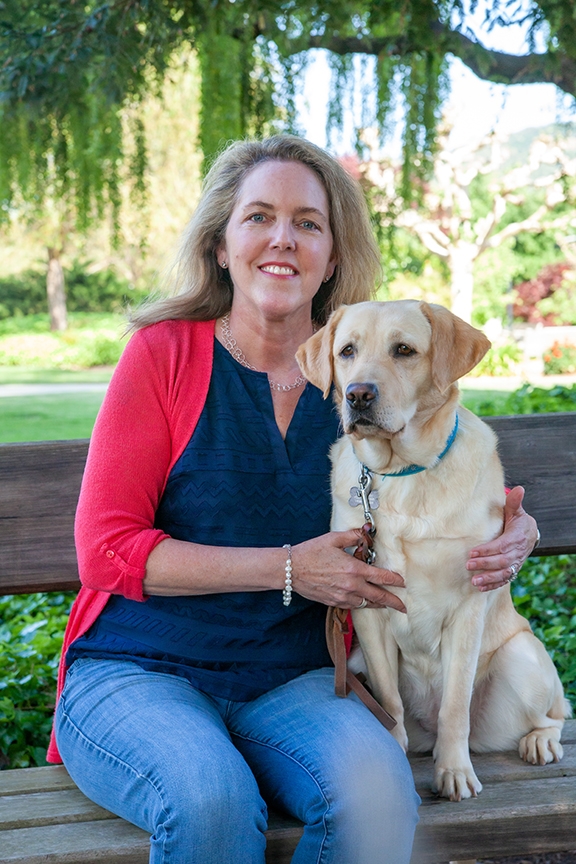 Karen Woon
Karen brings a wealth of marketing experience to GDB having served as director of marketing for Prophet Brand Strategy, a worldwide strategic brand and marketing consultancy, as well as key positions with McCann-Erickson, one of the world's largest advertising agencies and J. Walter Thompson, a renowned marketing/communications agency with offices in more than 90 countries.
Karen's areas of expertise include development and implementation of brand and marketing strategies, corporate communications, social media, public relations, and advertising agency and stakeholder partnerships.
Karen holds an MBA in Marketing from the Haas School of Business, University of California at Berkeley.
Her interests include architecture and design, stand up paddleboarding, traveling with her family, and watching Pick of the Litter.