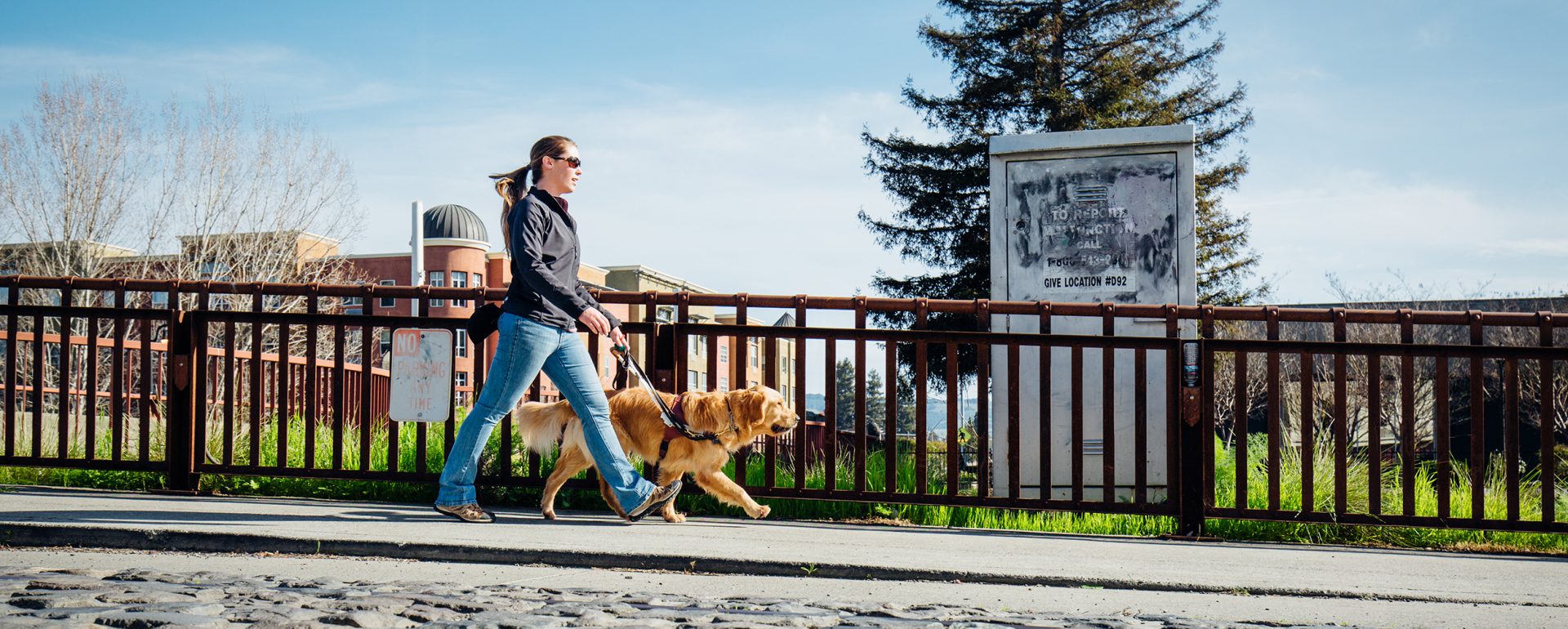 Guide Dog Mobility Instructors
Providing exceptional training for our dogs and clients.
Guide Dog Mobility Instructors are the backbone of our Training Department and have completed our three-year Apprenticeship Program. They are committed to providing the best possible training for our dogs and the people that we serve. Their responsibilities include:
Formally training dogs to become guides.
Conducting our client training; teaching our clients how to work with their new guide dogs.
Training and mentoring apprentice instructors.
Visiting our alumni on post-graduation follow-up trips and/or interviewing prospective clients in their homes.
Representing Guide Dogs for the Blind at public functions as speakers before community groups, clubs and service organizations.
Meet Some of Our Guide Dog Mobility Instructors
Jeff Grey
Jeff grew up in Springfield, Virginia. He received a BS in business administration and played football at the University of North Carolina. He had a successful career in the computer industry and moved to California in the process. Jeff's passion for scuba diving led him to The Marine Mammal Center, where he volunteered his time assisting with the rehabilitation of sick/injured marine mammals; he was also a member of the water rescue team. When Jeff decided it was time for a new career challenge, he joined Guide Dogs for the Blind in 1998 as an Instructor Assistant and obtained a California State License in 2003. Jeff is currently a member of the Core Support Team in the San Rafael, CA Training Department. He enjoys mountain biking and on nice sunny days, he commutes to work on his ebike.
Jessica Drew
Jessica was a puppy raiser from 1994-1996 and completed two internships at GDB's California campus. She then studied animal science with an emphasis in equine science at UC Davis from 2001-2005. During that time, she worked at the UC Davis Equestrian Center, both as a riding instructor and a barn supervisor. She also spent a year living at the Center for Equine Health, where she spent nights taking care of foaling mares and sick or injured horses. After graduating, she was hired at GDB as a dog care assistant. She became an apprentice instructor in 2006 and received her license three years later. She has two pets: a career change Golden Retriever named Libra and a Paint horse named Maverick.

Stephanie Zabitz
Stephanie began her journey with Guide Dogs for the Blind in 2007 through the San Francisco State University's Master of Arts Special Education program. She became a licensed guide dog mobility instructor in 2011. Stephanie had a lot of exciting work prior, from capturing and tagging sharks with Pelagic Shark Research Foundation to accumulating five and a half years of experience as a veterinary technician with small pets, exotics, and emergency nursing. Stephanie currently lives in San Francisco with her husband Spencer and their Australian Cattle Dog cross named Pete. She spends her free time traveling, backpacking, sailing, surfing, and playing the piano.
Danielle Toister
Danielle grew up in Torrance, Calif. She received a bachelor's degree in animal science with a concentration in zoo and exotics from Cal Poly San Luis Obispo and completed internships at the Marine Mammal Care Center in San Pedro, Calif., and Charles Paddock Zoo in Atascadero, Calif. She now resides in Sonoma County with her husband, Nathan, and their German Shepherd mix, Koda. Danielle enjoys camping, playing acoustic guitar and sketching.
LaniJo Bochmann
LaniJo grew up in Girdwood, Alaska. She attended Colorado State University where she received a bachelor's degree in zoology with a minor in music. During this time she had jobs as a lab technician, a children's ski instructor, and an environmental education instructor at Trailside Discovery. During college she also started raising puppies for GDB. Several puppies later she was hooked, and after graduating she moved to Oregon and started working at GDB as a canine welfare technician. She is now a licensed instructor. LaniJo now lives with her husband in Gresham, Ore. with their two dogs, an 11 year-old career change Lab and a 1 year-old Husky mix. In her free time LaniJo enjoys running, hiking, skiing, and playing the violin in the Mt. Hood Pops Orchestra and the Vitula String Quartet.
Katie Anderson
Katie grew up in Portland, Ore. and was a GDB puppy raiser from 1999 to 2004. She completed a summer internship at GDB's Oregon campus and worked as a wrangler during summer camp for three years. Katie attended college at George Fox University in Newberg, Ore., and received a bachelor's degree in biology. Throughout college, she had various experiences working with exotic animals completing internships with the Oregon Zoo, Sea Life Park in Hawaii, and working for a horse reproductive specialist. After college, she worked as a marine mammal trainer for three years at Miami Seaquarium in Miami, Fla. She worked with dolphins, sea lions, and seals in guest interactions and daily shows. Katie came to GDB in 2011 and enjoys traveling, hiking, camping, horseback riding, and spending time with her career changed Golden Retriever/Lab cross Odella, whom her parents raised.
Careers in our Training Department
We offer several employment opportunities in our Training Department:
Canine Welfare Technicians
Apprentice Guide Dog Mobility Instructors
Guide Dog Mobility Instructors
If you're interested in pursuing a long-term career with GDB within our Training Department, visit our Careers page to learn more about job openings.