Puppies with a Purpose Campaign
Guide Dogs for the Blind's campaign for our new Puppy Center
Our Vision
Within each GDB puppy resides the potential to change the world. Our new Puppy Center provides a safe, warm, and enriching environment for puppies as they begin their journeys to become guide dogs. The new center on our California campus includes areas for puppy birthing (the Puppy Nursery), puppy socialization (the Young Heroes Academy), and a public education center (the Learning Lab. All of these features will greatly improve the health and success of our puppies, so that more of them reach their potential to become guide dogs that transform lives.
The Center has three key components:
Healthier, more nurturing habitats for mothers and their pups
Early socialization and enrichment areas for puppies
Educational displays and interactive learning opportunities for the public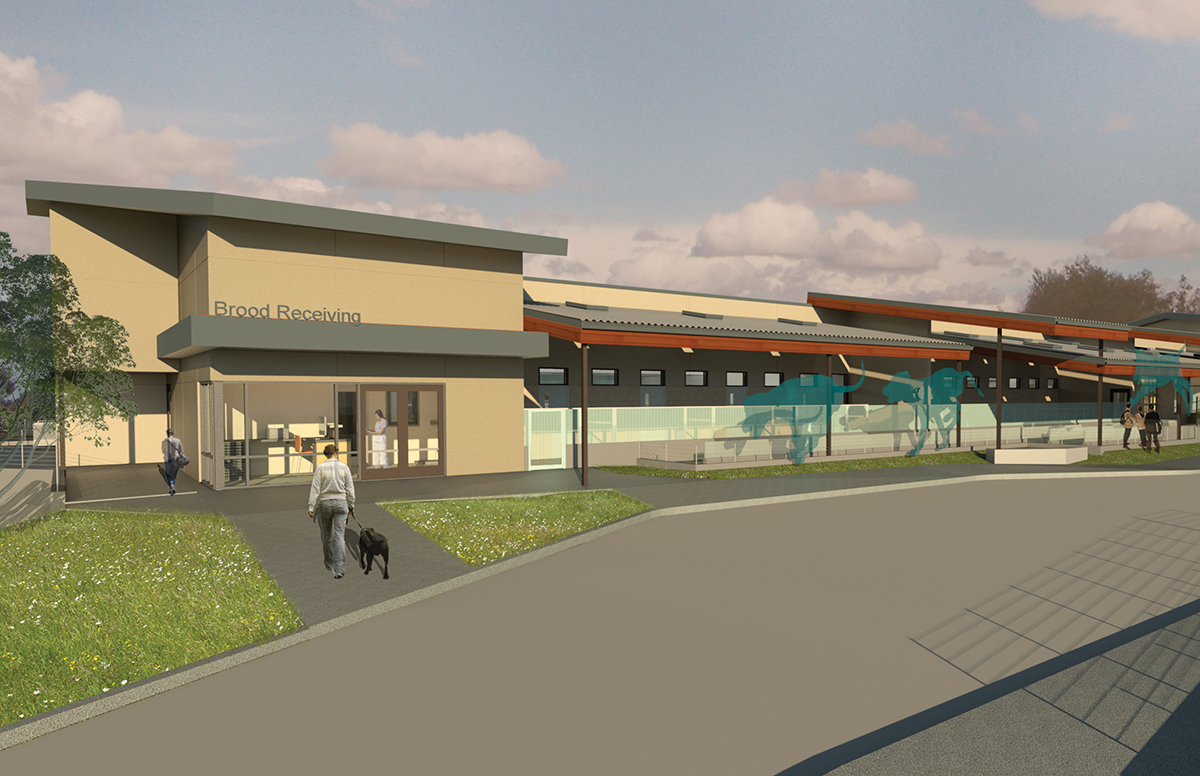 The Plan: A $20 Million campaign
The innovative Puppy Center not only addresses the limitations of our existing facility, but will serve as a signature project that will more effectively position GDB to advance our mission and strategic objectives in the future. While we are thrilled to announce that we have exceeded our $20 million fundraising goal for the Puppies with a Purpose campaign, there is still an opportunity for a naming sponsor for the Learning Lab, the educational area of the new Puppy center. We are seeking a $1.5M gift for naming rights that can be pledged over three years.

Designing for Our Future
The Puppy Center features approximately 28,000 square feet of space and provides enhancements in animal welfare and socialization, biosecurity, and improved working environments. It incorporates best practices that not only protects the wellbeing of our puppies, but also enhance their socialization experience and allows staff and volunteers to perform their roles efficiently and ergonomically. By increasing capacity, creating healthier environments, and educating our visitors in unique ways, our vision for creating a state-of-the art facility will soon be fully realized.


Healthier, More Nurturing Environments
The new Center features larger, non-linear kennel spaces that incorporate approachable and interesting materials that are both aesthetically pleasing and functionally efficient. In the Puppy Nursery, stalls have distinct areas that enable mother dogs to care for their litters and also have a separate area to rest, relieve, and access outdoor space for exercise.
The Center features a "puppy bubble" that utilizes best practices in biosecurity to keep our puppies healthy, from the time they are born until they leave our doors, especially in the critical phase after they have been separated from their mothers' milk and the accompanying antibodies it provides. Enhancements include:
Isolation areas for potentially contagious puppies
Changing room areas for staff and volunteers that help preserve the distinction between clean and dirty zones
A stable, segregated air system
Less porous flooring and other surfaces that are less likely to harbor bacteria and viruses

Enhanced Socialization and Enrichment Areas
Stalls incorporate varied textures, surfaces, and sounds that provide exposure to environmental stimuli throughout the duration of the puppies' stay. An expanded socialization area will feature a walking track and indoor/outdoor yard specially designed to foster the pups' confidence and provide early interactive experiences. Increased socialization opportunities for our puppies contribute to higher success rates, reduction in the number of puppies required to meet program goals, reduced breeding, and a smaller breeding colony.
Functional Work Spaces
The new center boasts streamlined and ergonomic work stations, dedicated changing areas, and optimal lighting so that our dedicated staff and volunteers will have a functional and pleasant work environment. Features include:

Non-linear and modular stalls
Well-designed work stations
Updated equipment
Interactive Learning Lab

The ability to see our puppies is one of the key reasons that GDB's campus tours are so popular—more than 15,000 people visit our California campus each year. We have a unique opportunity through the new Puppy Center to not only give visitors a healthy dose of puppy love, but to educate and motivate them to understand the bigger picture of "both sides of the harness." The Learning Lab includes a number of exhibits that help tell our holistic story by providing a window into the world of our many programs.
Exhibits include:

A viewing gallery that provides a look into the Young Heroes Academy puppy socialization area and provides opportunities to interact with our volunteer puppy socializers as they work with the pups
A peek into a "real life" room where our puppies get to experience a home-like environment
Video kiosks featuring stories about various GDB alumni and other members of the GDB community
Interactive displays with educational information about our breeding, neonatal, kennel, veterinary, puppy raising, and client programs
Our goal is that the Learning Lab will provide a unique experience that stays with guests long after their visit.
Christine Benninger, President & CEO
Andrew Mathieson, Board Member and Campaign Chair
Sherilyn Dacquisto, Treasurer & CFO
Tom Horton, Vice President of Philanthropy
For more information about the Puppies with a Purpose campaign, please contact Lisa Poehlmann at [email protected], or 415.492-4190, or any member of our Fundraising team.